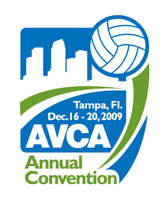 This is Linda here and well I'm back and I bring you the latest Tampa Bay Conventions news for the  with the American Volleyball Coaches Association in town today through Sunday!  The best college volleyball players in the country are honored this Friday at the AVCA All-America/Players of the Year Banquet.
Celebrate the best in the sport while networking with your coaching peers at one of the convention's signature events. Immediately after the banquet the fun shifts to the Spalding Reception and Coaches Tournament in Volleyball Marketplace. 
If you need a last minute gift for the holidays don't forget the AVCA Silent Auction and AVCA Bookstore will be open as well. Finish the day testing your poker skills in the Texas Hold'em Tournament & Party.
Coaching education highlights the schedule on Saturday as twenty-six classroom, on-court and sand seminars are available from which to choose. No matter which level you coach, the AVCA has sessions developed specially for you. New this year is the AVCA Holiday Tournament. This juniors tournament will include approximately 60 teams with players in the 16's, 15's, 14's and 13's age groups. Coaches attending the AVCA Convention are admitted free, so take advantage of this recruiting opportunity. Cap your night off in the
St. Pete Times Forum
and see which team will win the
2009 NCAA National Championship
.
Enjoy our Tampa Bay weather for another day at AVCA Future Star Sunday. The day will start with the AVCA Girls' Talent Showcase @ AVCA Convention which is a recruiting event for high school volleyball players in the class of 2010, 2011 & 2012, as well as junior college players. Make your way over to the St. Pete Times Forum on Sunday afternoon and watch the best 24 senior high school girls' volleyball players in the country at the Under Armour® All-America Volleyball Match & Skills Competition. 
Over and out here!  I wish you all a very merry holiday season and a Happy New Year!   I will be back with new Tampa tidbits next year.