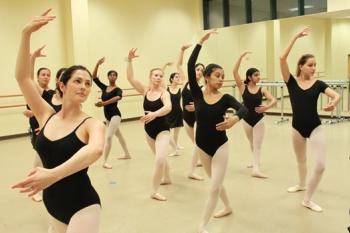 Performing Arts fans, if you're into music, concerts or ballet, the Straz Center has some big events in the coming weeks that you won't want to miss!
Today, June 21, the Patel Conservatory at the David A. Straz, Jr. Center for the Performing Arts will be putting on their Junior Intensive Ballet, showcasing graduates from the Patel Conservatory's Summer Junior Intensive Ballet Program. The show will be taking place in Carol Morsani Hall at the Straz Center at 4:30 p.m. Tickets start at $5.
The following week, the Patel Conservatory will be putting on two more concerts at the Straz Center. Both performances are free to attend, and both are taking place June 28 at 3 p.m.
The Vocal Arts Academy: Junior Division concert will be held in the TECO Theater at the Straz Center. Singers in grades five through eight will be performing in a culmination of their two-week vocal arts camp, where students trained privately with instructors and learned to sing as part of a choir or ensemble.
The Rock Star Retreat concert, where students in grades five through twelve will use everything they've learned at the Patel Conservatory's Rock Star Retreat camp, will be held at the Straz Center for the Performing Arts. During the camp, students learned how to write new songs, perform rock classics, use new instrumental techniques and come together to form a band.
The David A. Straz, Jr. Center for the Performing Arts is located at 1010 N Macinnes Place, Tampa. Call 813.222.1002 for more information.