Hello out there to all of my peeps! Jerm here to give away some tickets for
Miss Abigail's Guide to Dating, Mating and Marriage
debuting tonight at the
David A Straz Jr. Center for the Performing Arts!
Now if you read my
blog post from Monday
, I did promise to do this giveaway yesterday, so please forgive me for that. Had a bit of an allergy/sinus issue that kept me out of the office yesterday, so again one thousand apologies for that. Onward to today's giveaway though!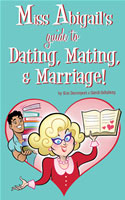 Since I woke-up on the right side of the bed this morning, that puts Jerm in a good mood and when Jerm is in a good mood, the tickets are a flowin! So having said that  I will be giving away two sets of ticket to tomorrow night and Friday's shows!
On to the giveaway now! Here is a refresher on the way the contest will work, as remember, we have changed things up a bit from the original format. Instead of re-tweeting, just answer the question on Twitter. Once you do that you will be entered in to win, as we will randomly draw.
For those of you who choose to re-tweet, it does indeed increase your chances of winning.
I will draw names from the first 10 correct answers, so make sure you get it right! Around 530 I will TwitVid the name of the winner! Let's not waste any time and hop right into it!
So here are the rules again, just in case you forgot...
You have to be following us on Twitter...
Answer 2 questions about Miss Abigail...
What is Miss Abigail's day job?
Name this "high profile" publication that Miss Abigail writes a weekly column for?
Okay folks there you have it, your arts and culture in Tampa Bay trivia giveaway for the day! Get to answering and I will announce the winners today around 530pm! Until then check back all day long for more updates from Jerm and the rest of your Tampa Bay team of blog folk!