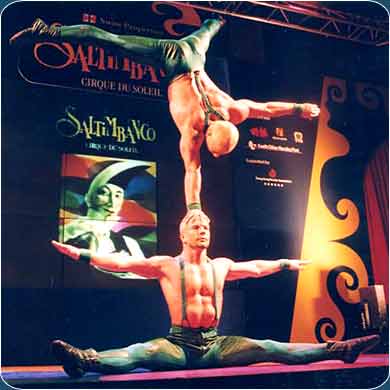 Hey everyone!  Travis here with what I know many of you have been waiting on.  We have told you all about Cirque du Soleil's Saltimbanco that is coming to Tampa later this month...AND, we have told you that we will be doing giveaways.  Well, the giveaways are here. 

Usually, we make you answer one question about Tampa tourism or maybe even tell us about things to do in Tampa Bay, but today is going to be a little bit harder (but just a little bit).  You'll have to answer two trivia questions to get the tickets..and remember, that you have to answer them on our Twitter site (www.VisitTampaBay.com/Twitter) to win! 

Here are the rules...so you don't miss out -

Answer one tourism trivia question
Answer one Cirque Du Soleil trivia question
You have to re-tweet the original tweet in order to be eligible to win
You have to answer both questions within the same Tweet

If you can do all of that, you have just scored yourself tickets to Saltimbanco.  Make sure you log on to www.cirquedusoleil.com to get all of the details about the show. 

Now, pay attention because in the next few minutes, today's question will be up and ready for your perusal.  See you soon and start getting excited!