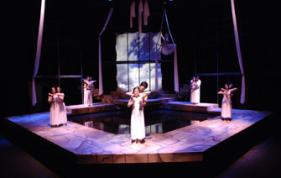 Hey gang...we are back with more updates about things to do in Tampa Bay, and we're talking about whats happening with the USF College of the Arts over the next ten days.  So, here we go with the free events happening at USF -

Monday - Thursday, March 2 – 5
Works by Malgorzata Moore Exhibition
William & Nancy Oliver Gallery, USF

Tuesday, March 3, 2009 – 8 PM
Reading of Love in the Shining City
TAR 130, USF

Thursday, March 5, 2009 – 8 PM
USF Jazz Combos
FAH 101 – Music Recital Hall, USF

Friday, March 6, 2009 – 7 PM
Malgorzata Moore Exhibition Reception
William & Nancy Oliver Gallery, USF

Monday - Saturday, January 10 – March 7, 2009
Werner Reiterer: Raw Loop
CAM – East Gallery, USF

Monday - Saturday, January 10 – March 7, 2009
Faculty Focus: Neil Bender, Elisabeth Condon and Cesar Cornejo
CAM – West Gallery, USF

Monday - Thursday, March 9 – 12
CIENEMA Exhibition
William & Nancy Oliver Gallery, USF

Wednesday, March 11, 2009 – 8 PM
USF Jazz Combos
FAH 101 – Music Recital Hall, USF

Thursday, March 12, 2009 – 6:30 PM
Guest Artist Recital: Western Kentucky University Oboe Concert
FAH 101 – Music Recital Hall, USF

Thursday, March 12, 2009 – 7 PM
Dr. Sean Roberts
FAH 290, USF

Friday, March 13, 2009 – 7 PM
CIENEMA Reception
William & Nancy Oliver Gallery, USF

But remember, these are just the free events.  You can always go to the website or call to get info on other events and details on these.  For additional information or to purchase tickets visit www.arts.usf.edu or call the arts box office at (813) 974-2323.

Stop back by and let us know if you went to any of these and how they were...

And, keep checking back for more information about Tampa Bay area
events, as well as information on what to do, where to eat and everything else for the SEC Basketball tournament next week. 

Until then, break a leg!