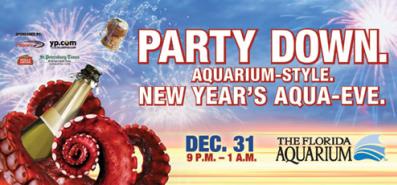 Hello there folks! Jerm here back from yesterday to give away some more cool items. Today have I got a doozy for you! Today we are giving away two tickets to Aqua Eve!
Celebrate the New Year at
Aqua-Eve
at the
Florida Aquarium
! Enjoy great food, beer and wine throughout the evening while viewing the dazzling aquarium exhibits. Get your boogie on to live entertainment and toast to the new year with a champagne toast at midnight and enjoy the amazing fireworks display over
Channelside
. Be sure to dress for success though as cocktail attire is recommended for this event!
With your ticket
, there will also be plenty of food and drink for you to enjoy! Check out the list below:
Hors d'oeuvres
Thai Chicken Brioche
Marquis Chicken with Plum Sauce
Scallop Wrapped in Bacon
Peppered Asparagus Wrapped in Prosciutto
Smoked Salmon Canapé
Vegetable Spring Rolls with Sweet & Sour Sauce
Mascarpone Bleu Cheese & Red Onion Tartlet
Dinner
Shrimp Cocktail with Lemon
Cheese & Crudités
NY Strip
Roasted Turkey Breast
Creamy Boursin Mashed Potatoes with Butter
Green Beans Almandine
In addition to all of that yummy goodness, there will be a supply of desserts and coffee as well!
Well now that I got you all excited about a chance to win these tickets, lets hop to it! As always, instead of re-tweeting, just answer the trivia question(s) on
Twitter
. Answers placed in the comments section of this blog will not count.
Once you do that you will be entered in to win, as we will randomly draw one name total, and that person will have two tickets to this awesome event! For those of you playing on Twitter and who choose to re-tweet, it does indeed increase your chances of winning.
Name 1 of the 3 entertainer(s) that will be performing live.
True or False: Dick Clark will be the live Emcee for this event?
For the cruise portion of Aqua Eve, what time will the boat leave the dock?
Okay guys, there you have it! Get to answering and remember to re-tweet! I'll announce winners at 5 pm.