Hey folks! Jerm here with some more news and a tiny little giveaway about one of the most anticipated annual New Year's Day events in the Tampa Bay area!
If you haven't been to an event at the
Florida Aquarium
just yet, then
Aqua Eve
is the one to be at folks!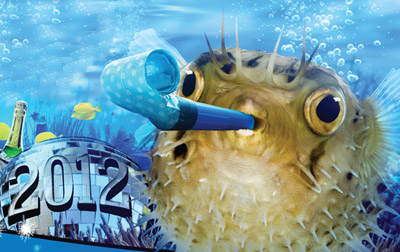 What better way to bring in the New Year with
food
, beer, wine, and fireworks, and live music along with some of Tampa's most awesome residents!
For those of you that want to spend NYE on the water, there is even a boat cruise option for Aqua Eve!
This one-hour cruise on a double-decker, powered catamaran includes beer, wine, dessert, hors d'oeuvres and a champagne toast at midnight and private seating for breathtaking views of the fireworks over the Channel!
As always, we are gonna give you a chance to win a pair of tickets to this awesome event so you and a friend or significant other can ring in 2012 in style! These are general admission tickets that will get you access to all the food, drink, and music madness, but if you want to do the cruise that's a bit extra. All you have to do is answer some trivia questions with us on
Facebook
and/or
Twitter
and you enter yourself into a drawing where you could be our big winner! Simple right? Of course it is!
Okay enough of my babbling, lets get to the trivia! Now remember folks, just answer the question to the trivia on the Facebook post as a comment, or on Twitter as a reply. Also, if you share the post on Facebook or Re-tweet on Twitter then your name will be entered to draw twice!
True or False The menu them for this year's event is will be Taste(s) of Florida, Mexico, and Europe.
What type of attire is recommended for Aqua eve?
True or False On the Aqua Eve food menu, the featured ingredients for the Seared Crab Cakes are sun-dried tomato ailoli and pickle relish?
Well folks, that's it, and I suggest you get to answering now! Remember that even if you don't win, you can still
purchase tickets to Aqua Eve
, but you better hurry, as a little bird told me they are close to selling out!
That's all for now, but be sure to check back for more New Year's Eve Tampa Bay are events updates!