Hello there folks! Jerm here on this gorgeous sunny day to talk Tampa Bay dining and food! Last night I had the opportunity for the first time ever, to dine at the wonderful
Pelagia Trattoria restaurant
over in our famed westshore district!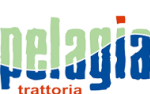 The Pelagia is also nestled into the base of the four diamond
Renaissance Tampa International Plaza Hotel
! For those of you who haven't been, Pelagia Trattoria offers a full view of an open kitchen, which is great because you have full view of hard the staff is working bring just that extra bit of excellence to your dish.
I instantly fell in love with the relaxed atmosphere of an intimate yet, vibrant mood accentuated by the contemporary expressive art. Beautiful hand-glazed tiles, custom ironwork, and bright, jewel-toned, blown-glass light fixtures are just some of the features that lend to the atmosphere of this chic indoor space.
Chef Daniel Goldich
and the and the knowledgeable staff do a great job of explaining the
menu
and the inspiration behind each dish. That was a bonus for me because after taking a  quick look at all of the amazing options on the menu, I had a tough time making up my mind on what I should have.
To kick things off I thought I would try the Caesar salad, which was interesting because Pelagia offers a different option to the traditional Caesar salad with a fondue option. My biggest concern was how do I eat a Caesar salad with my hands? Am I eating it the wrong way? Luckily my server informed me that there is no wrong way to eat the salad and that I should just dig in! Great advice, so I did just that, and nom nom nom was it tasty!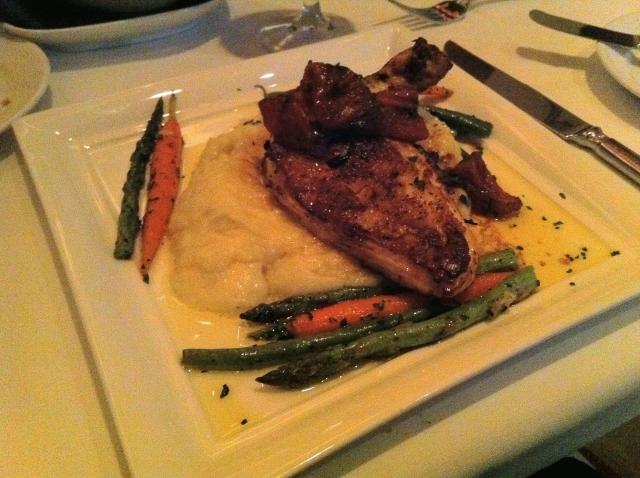 After browsing the menu and getting some words of wisdom from the server, it was decided that I would go with the crispy pan-seared  chicken breast, balsamic tomatoes with garlic mashed potatoes on the side (pictured to the right, and pardon my awful photography skills).
The chicken was nothing short of delicious almost to the point to where I wanted to hug Chef Daniel! I would consider myself a bit of a mash potatoes snob, and only give thumbs up to the best of them, but this was probably the best I have had in Tampa folks! 
For dessert we decided to do the sampler so we could get a good idea for a few different
dessert menu
items. We went with the white chocolate cheesecake, apple tart, and dark chocolate flour-less mousse cake. They were all mind numbingly delicious, but I would have the say that the white chocolate cheesecake was my favorite.
I didn't get the chance to try it this go around, but next time I will try out a pasta, as I heard through the grapevine that the pastas are made on premises by hand! In addition to that, the menu changes with each season, in order to be sure and offer top quality beef seafood veal and lab along with, fresh ingredients.
Folks, if you haven't been to Pelagia Trattoria, be sure and put it on your list of Tampa Bay restaurants to try out as you won't be disappointed. Be sure to say hi to Chef Daniel, and make sure you tell him Jerm sent you! That's all for now folks, but stay tuned in for more updates on dining related things to do in Tampa Bay!