Hey everyone!  Ok, this really doesn't have much to do with great Tampa Bay area events.  And I really don't have any extra great things to do in Tampa Bay...but when I heard this news, I just had to share.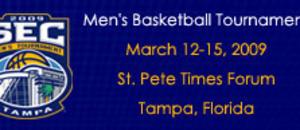 This really goes to show you what a supportive community we have right here in Tampa Bay.  I have always said that we are a sports-minded town, but the truth of the matter is, Tampa Bay residents just love it when events come to the area. 

As the 2009 SEC Men's Basketball Tournament makes its way to Tampa for the first time in history, Tampa Bay residents are showing their support and enthusiasm by volunteering to make this inaugural trip a success.  Nearly 400 community members have filled more than 700 volunteer shifts, ranging from locations in downtown- and Westshore-area hotels to Tampa International Airport and even the SEC FanFare.

If that doesn't show support, then I don't know what does!  This is going to be a great event that definitely gives back to the community, and the economy, in Tampa Bay! 

The goals of the Tampa Bay Local Organizing Committee (TBLOC) volunteer program are to provide an enthusiastic and warm welcome to guests visiting the area, provide information to visitors and contribute to the general atmosphere of excitement surrounding the SEC Men's Basketball Tournament. Well, that is exactly what is going to happen with this kind of support...

So, if you are one of those volunteers, THANK YOU, for making this event a success!  And if you aren't a volunteer, trust me, there'll be more volunteer opportunities in the future for you to participate in! 

And if you are volunteering, let us know where you'll be (and when) and we'll come by and thank you personally! 

Keep checking back as we bring you more udpates about the 2009 SEC men's basketball tourney, or head over to www.SECTampaBay.com to get more details! 

Until next time, start enjoying the beautiful Tampa Bay weather and gear up for great hoops action!