Save the date and mark your calendars for the Annual Florida State Fair Foundation Golf Tournament on October 15, 2012.
The proceeds from this wonderful event are used to support the many educational programs of the Florida State Fair Authority, and the on-line learning resources made available to students and teachers alike.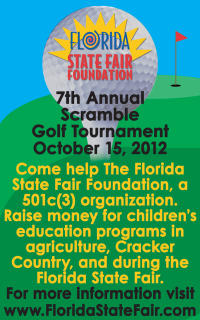 Each year the Mildred W. and Doyle E. Carlton Jr. Cracker Country, Tampa Bay's only rural living history museum introduces thousands of elementary school students to life as it was during the early 1800's. The Florida State Fair Authority Agribusiness department provides programs throughout the year that educate students in the proper care of their animals and prepares them to exhibit at the Florida State Fair. The Ag in the classroom program gives third graders the opportunity to touch, taste and see Florida Agriculture in a fun-filled environment. These programs are available because of the generosity of our sponsors. In order to keep providing these wonderful programs, they are asking for your help.
The Proceeds from the Golf Tournament go directly to the Florida State Fair Foundation, a 501(c) (3) organization.
For those that don't play golf, sponsoring a hole sign is a great way to promote your business or event. Your contribution is greatly appreciated!
To join in on the fun, download the Golf Tournament Brochure HERE.