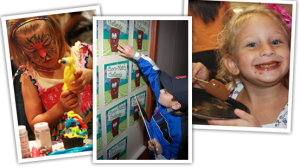 At the 2013 Festival of Chocolate at the Museum of Science & Industry, there's something for those of all ages!
Whether you are looking to attend chocolate classes and demonstrations by some of the world's famous chocolatiers, or you just want to "Get Your Chocolate Mustache on" there's plenty of things to do to keep you busy!
This year's Festival of Chocolate is more kid friendly than ever this year, so be sure to bring the little ones and let them enjoy a world of pure chocolate imagination (yes I stole that from Willy Wonka).
To help get you started, here are just a few of the kid friendly items you can expect to see at this year's festival:
Participate in the Cookie Stacking Competition
Take a Kid Friendly Class All About Chocolate
Two Words: Armpit Fudge
Ice Cream Eating Contests
Decorate Marshmallow Kebobs
And Much More!
Now if you haven't already purchased your tickets, then I suggest you do so as this event is going to be packed with chocolate lovers from all over, and you don't want to disappoint the kids!
That's all for now, but for more info on Chocolate Festival as well as other Tampa Bay area events, be sure to visit our website!