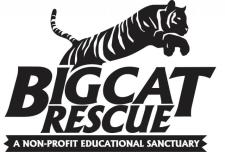 Hey everyone...Travis here with a quick note about one of the coolest places in town.  It's also a place where you can get up close and personal with some big cats - yep, it's Big Cat Rescue.  Me and a few of my friends (go Team Liger) are heading out there today to do a little exploring.  We'll be back later with photos and an update about how it was, but if you've never been to this place, you need to plan your next trip immediately. 
Not only can you take a tour and see these amazing animals, but you can even schedule a feeding tour, and take home a souvenir to remember your trip.  Plus, you can stand three feet from a 750-pound tiger, take photos that everyone will think you took on a safari and experience 100 wild cats and one wild time!
Like I said, I'll be back with more updates, but start planning your trip, and take a look at their website - www.BigCatRescue.org.  You'll certainly find some fun and great things to do in Tampa Bay during your trip there. 
Talk soon....