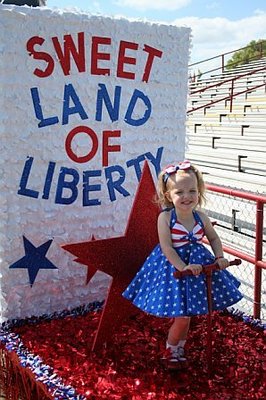 Hi everyone!  As promised, Travis back with an update about one of the best Tampa Bay area events of the year...the Strawberry Festival.  We are bringing you info about teh Baby Parade this time! 
Registration for the 2010 Florida Strawberry Festival Baby Parade will be held on Saturday, January 23, 2010 from 8 until 11 a.m. at the Plant City Woman's Club building located at 1110 North Wheeler Street.
If you are interested in registering your baby to take part in this very cool event, registration times are as follows:
1 year olds: 8:00 a.m. – 9:00 a.m.
2 year olds: 8:00 a.m. – 9:00 a.m.
3 year olds:  9:00 a.m. – 10:00 a.m.
4 year olds:  10:00 a.m. – 11:00 a.m.
Registration is limited to one child per adult unless they are siblings. Baby Parade Competition is open to East Hillsborough County residents only (East of Hwy. 301...sorry for everyone else) & Proof of Residency is required.
All entries must be made in person with a $25 entry fee. The first fifty (50) entries for each age group are accepted on a first-come, first-serve basis for the following categories:
Most Beautiful Girl
Most Handsome Boy
Most Personality
Best Costume
Most Beautiful Float
and Most Creative Float.
Any questions regarding the 2010 Baby Parade...just contact Chairperson Leah Long at 813-967-4152 or the Florida Strawberry Festival Office at 813-752-9194.
Rules for the Baby Parade are posted on the Festival's website at www.flstrawberryfestival.com under contest rules. 
If you decide to take your baby out...good luck!!!  The rest of us will just watch the parade!!!!!
Thanks everyone...see you back here for more great things to do in Tampa Bay and info on other Tampa Bay entertainment options.