Hello there folks! Jerm here and I hope you know what today is! Okay yes its Wednesday, but its also trivia giveaway time! Today you are playing for a pair of general admission tickets to
ZooFari
this weekend at
Tampa's Lowry Park Zoo
!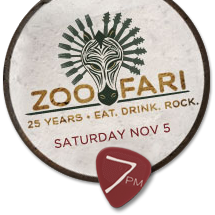 See
my post yesterday
for a full description of the event, but ZooFari is going to be the hottest ticket in town this weekend with food from over 50 local Tampa Bay area restaurants, plus some fine high quality beverages to help you wash it down. Oh yeah and did I mention some great music from Rock and Roll Hall of Famer Dave Mason! If you have not yet
got tickets
hurry up and do so!
So by now you know how this trivia thing works, but in case not, here are some details...
To win, you just gotta answer the trivia questions below on either our
Facebook
or
Twitter
site, as we'll be giving away three pairs of tickets today!
If you have the correct answers you are entered into a random drawing! For those of you playing on Twitter,
it does increase your chances of winning if you Re-Tweet the original trivia tweet
.
Facebook folks, same goes for you if you share the post!
Now enough of me babbling and going on, lets get to the trivia! Remember just answer the questions on Twitter in response to the actual tweet, and if you are on Facebook just answer in the comments section of the post where we give you the link to this blog!
In addition to Rock & Roll Hall of Famer Dave Mason, name two of the other six acts playing through the Zoo?
True or False: Dave Mason was a friend of legendary guitarist and they record Hendrix's version of "All Along the Watchtower" together?
True or False: Today is the last day to purchase $75 tickets on-line?
Okay guys, get to answering! This one will be a quickie, as  we'll post winners today around 130pm so be paying attention! Stay tuned in for more updates from us on foodie related Tampa bay area events from our awesome Tampa Florida attractions!