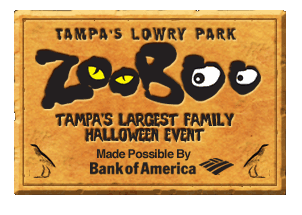 Hey there guys! Jerm here with an awesome update for the latest of our giveaway!
I swear this year has just flown by, and amazingly its already time for
ZooBoo at Tampa's Lowry Park Zoo!
In pure Jerm fashion, I wanted to celebrate the opening of this years event by doing a 4 pack giveaway so that some lucky family can be the first to check things out all of the family friendly hair raising fun and activities this Thursday or Friday evening!
All you have to do to win tomorrow is pay attention to this blog and/or our
Twitter
account tomorrow around noon. Answer a few trivia questions and you will be entered in to win the tickets! I'll pick the firs ten names draw a random winner at around 530 pm or so! Easy as pie right!
Now for more detailed information on Zoo Boo, be sure to check out Melissa's
blog post from yesterday
, or visit the Tampa's Lowry Park Zoo
website
.
That's it for now, but stay tuned for tomorrow when we post the trivia question, so you'll have a chance to win!
That's all for now, but stay tuned in for updates on Tampa Florida attractions and things to do in Tampa Bay!