Hello there folks! Jeremy here with an update for you today on an awesome event coming to the
Tampa Bay Times Forum
next month! In addition to telling you some info about this event, you'll also have the chance to win some cool prizes!
The
Nuclear Cowboyz
tour, featuring the world's top freestyle motocross riders, tour stops in Tampa on Friday, February 24 at 7:30 p.m. and now a second show on Saturday, February 25 at 7:30 p.m.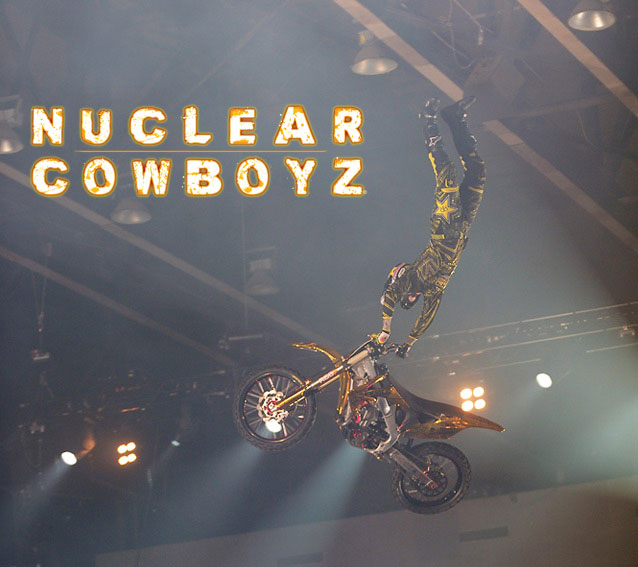 If you haven't heard of it, or never been to a show, its pretty much a Freestyle Motocross, half rock concert, half Broadway production and all Extreme Freestyle Motocross!
The show features the biggest freestyle motocross tour with the best freestyle motocross riders on the planet - all assembled together for a mind-blowing theatrical experience.
Some of the star riders include Adam Jones, Mike Mason, Beau Bamburg, Dustin Miller, Ronnie Faistt, the Metal Mellisha's Jeremy "Twitch" Stenber* and more.
In our usual awesome fashion today, we are giving one lucky winner a chance to win (4) tickets to see this event! Now for those of you who haven't played with us before, the format is pretty simple! Just answer correctly the the three questions below on either our
Twitter
or
Facebook
page, and you will be entered in to win our random drawing! To increase your chances of winning just re-tweet the original contest post on Twitter, or share it on Facebook! Okay enough babbling, here are the questions:
Tour participant Beau Bamburg was born in this Oregon town?
True or False Jeremy "Twitch"Stenberg joined the Metal Mulisha crew at the age of 13;
This Nuclear Cowgirl has to her credit live stage show and award show performances with artists like P. Diddy, Jessica Simpson, Ludacris, and Britney Spears?
The Nuclear Cowboyz tour is creating a new frontier in freestyle motocross and these riders will perform some pretty amazing single, tandem, and multiple motorcycle tricks with state-of-the-art lights, lasers and pyrotechnics!
Now even if you don't win today's giveaway, still be sure to go out and
get your tickets
, as this is one show that you won't want to miss! For more information on the 2011 Nuclear Cowboyz tour, please visit
www.nuclearcowboyz.com
.
That's it for now, but stay tuned in for more updates on things to do in Tampa Bay and Tampa Bay area events!