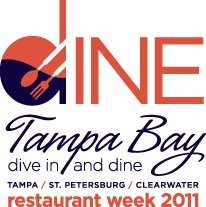 Hello there folks! Jerm here with an update for you and even more fun, a chance to win a $100 gift-card!
As you may or may not know, Dine Tampa Bay 2011 is fast approaching as it will be here before you know it. In the coming 30 days or so we will be launching a new website to kick off the effort.
Along with that website will be a brand new blog where we update you on all things Dine Tampa Bay and all things foodie in the Tampa Bay area.
Now this is the part where we need your help folks! For the blog portion of the new site we need a catchy title for it. Just to make things more interesting, we will be offering up a $100 gift-card for the person with the most creative title for the blog! Yup you heard that right folks $100 to do whatever you like with. There's only one thing better than money and that's free money!
Now to win all you have to do is follow these three steps:
Follow us on Facebook at www.Facebook.com/DineTampaBay (Non-Fan Entries will not be considered...)
Leave your Blog Title Suggestion on the comments of the Dine Tampa Bay Facebook Page
Wait for us to announce the winner later this evening!
It's all pretty simple folks! That's all for now, but stay tuned in for more updates on Tampa Bay Dining and things to do in Tampa Bay!