Okay folks, I bet the title of this blog definitely got your attention! That's right it's 
MOSI Festival of Chocolate
giveaway time folks!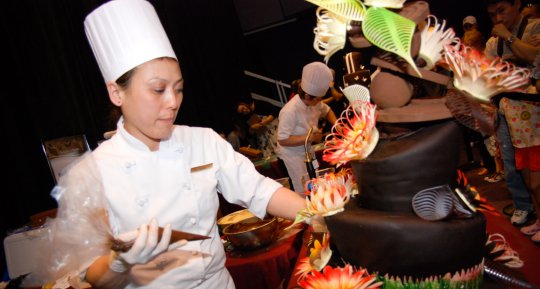 The moment I personally have been waiting for for some time is almost upon us! Yup you guesses it...
Festival of Chocolate
!
The Festival of Chocolate is the Largest All-Chocolate Event in the Southeastern United States featuring the area's best chocolate and confection companies selling treats of everything chocolate from truffles, cakes and cupcakes to cookies, brownies and ice creams. 
As usual we are giving some lucky Facebook and Twitter fans chances to win tickets to this awesome event! Now for those of you who haven't played along with us before, the format is pretty simple. Just answer some trivia for us below and post the answers to our
Facebook
and/or
Twitter
page where you will be entered for a chance to win!
We will be giving away two four-packs of tickets on Twitter and a another two four packs on Facebook. So that's a grand total of sixteen tickets for some lucky winners! Just to recap:
Facebook - 2 (4) packs
Twitter - 2 (4) packs
Okay enough babbling by me! Time to get to the trivia!
Name two of the more than 20 plus vendors attending Festival of Chocolate this year.
True or False The Festival of Chocolate Wine and Chocolate Pairing will be hosted by a chocolate expert from Los Angeles based Guittard Chocolate and a wine consultant from PRP Wine International?
This featured chocolate maker for Festival of Chocolate began his career as a chocolatier in Argentina while working for his father-in-law?
Okay guys get to answering! Just reply to the original post on Facebook or Twitter. If you re-tweet it increases your chances of winning and also if you share the post on Facebook it increases your chances.
That's all for now but stay tuned in for more updates on Tampa Bay area events and things to do in Tampa Bay!