Happy Monday folks! Jeremy here to tell you about some of the events happening at one of downtown Tampa's hottest kid friendly attractions!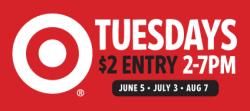 It's the first Tuesday of the month, and you know what that means! The Glazer Children's Museum partners with Target to offer you two dollar admission. Believe me when I say it doesn't get much better than that folks with $2 TARGET TUESDAYS!
Be sure to get there as soon as you can to avoid the line, as this is one of the best family friendly deals around town from 2-7p.m. Hours: 2-7PM.
For more information or if you have questions, be sure to give the museum a call at 813.443.FUN1 (3861). As always, children must be accompanied by an adult and adults must be accompanied by a child.
But wait there's more going on this Tuesday as well at the Glazer Children's Museum! There's a Monster Under My Bed, will begin this Tuesday through Sunday so be sure to bring the kids out!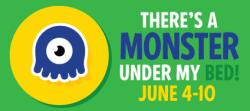 Let your imagination run wild with a monstrous week of story times, crafts, slime making and more! Here are some of the great things to do:
Story Time,  Tugboat Tots
This week story time will be full of monsters. (All ages)
Monster Puppets, Art Lab
Come get creative and make a monster puppet. Make a puppet with four eyes and ten ears. What will your puppet look like?   (With adult help ages 3+)
Slime, My House Your House
It's oozy gooey and green. It's Slime! Join us for Kitchen Fun-damentals where we will be mixing up a batch of slime. (Ages 6 +)
Monster Flink, Near the Airplane
Learn about gravity and density by creating a monster that can flinker. Which means the monster will not sink or float away. (Ages 6+)
Wild Thing Story Time, Twinkle Stars Theater
Enjoy a craft activity and story time in our Twinkle Stars Theater. (Craft ages 4+)
What a great week of things to do in Tampa Bay at the museum this week, so be sure to go and check both of these awesome events out, and be sure to check out the Glazer Childrens Museum website for more information!