So last night was the final for the
2009 Women's Volleyball Championships
at the
St. Pete Times Forum
, and just as many of us had suspected, it would be a a match that many people will talking about at the water cooler for the next few days!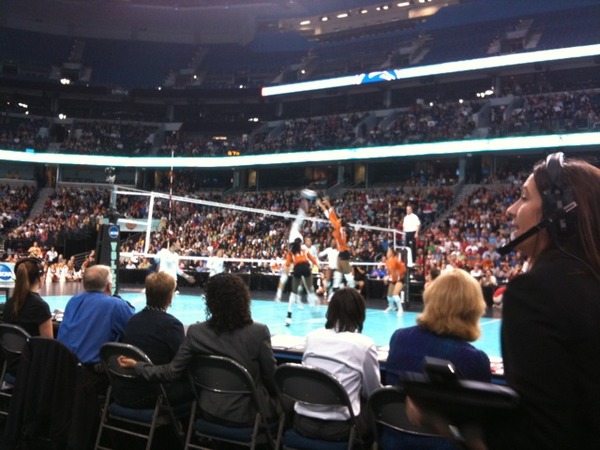 The Nittany Lions came into this Championship Final riding a 101 match winning streak and looking to take away their third title in as many years.
Earlier in the day, Penn State's own
Megan Hodge
was named 2009 AVCA Division I National Player of the Year, so the Nittany Lions had plenty of reason to feel good about their chances heading into the match. Too bad the Longhorns weren't reading the papers and believing the hype!
On the back of senior
Destinee Hooker
, the Longhorns surprised with Nittany Lions by jumping up to an early 2-0 lead and looking like they would make quick work of the defending champions. I must admit, that I thought it was over and we would see one of the biggest upsets this year in college sports. But If I took anything away from last nights game, its to never doubt a Nittany Lion.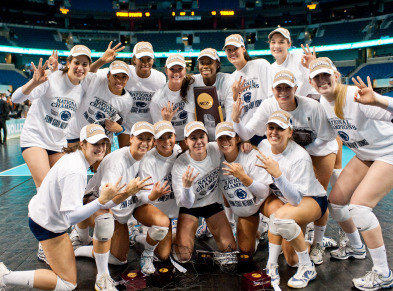 After all, they aren't the defending champions for a reason. Much like the other night against Hawaii, the sleeping Nittany Lions, were once again awaken and stormed back to tie the match up at 2-2, with a valiant team effort that you would just needed to be there to witness first hand.
the 5th and final set was a close one, but in the end, the Nittany Lions were able to edge out the Longhorns by a score of 15-13, and claim their third straight national title and 102nd win in a row!
And let me be the first to tell you that part of the reason for that comeback and I am sure their success all season long, can be attributed to the great group of fans they bring to each match. I am not sure I have been around a more dedicated group of fans than last night when I sat right in front of them. As my eardrums can attest, they are the "6th man" of this Nittany Lion group.
And that's it folks, another amazing Tampa Bay sports classic is in the books! Congrats to all of the teams competing and the valiant effort they each gave. We hope to have you back in Tampa soon!
That's it for now, but be sure to keep checking back for info on things to do in Tampa Bay!