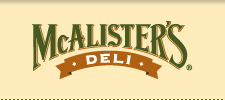 So last week for lunch i ventured out of the office to north Tampa, as I had a few things to take care of up there. It's rare that I get to venture out of South Tampa and the Downtown are, but any time I make that trek I always try and schedule a quick trip to
McAlister's Deli
. If any of you ever feel it necessary to get me a birthday present of some sort, then forget that BMW I have always wanted....just go to McAlisters and get me a giftcard loaded with money so that I may come and go as I please.
This place will always hold a special place in my heart as its a nice reminder of home for me as McAlisters's was founded in
Oxford, Mississippi
in 1989. If you didn't already know, Jerm is a proud product of
Hattiesburg, Mississippi
and there are two restaurants in my home town, so all through high school I frequented this place. It was the greatest day of my life a few years back when I realized that we had one in Tampa and I could enjoy my beloved McAlister's Club again.
It had been a while since I was last there so Thursday's lunch meeting was a welcome one. The courteous staff, buzzing atmosphere, and smell of the famous Spud Max Potatoes were almost too much for me to handle. As soon as we sat down, we were offered a free queso and chips, which is just the right way to get a meal started over there, or any place for that matter. Apparently if you bring a group of six people or more, they reward you with the aforementioned appetizer...did I already mention that I love this place?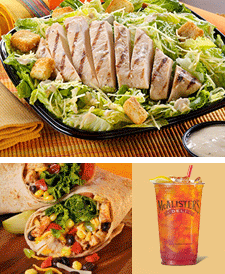 As far as the
menu
goes, I can honestly say that I have never had anything on the menu that I didn't like. 9 times out 0f 10 I go for the McAlister's Club, but today I figured I would go back to an oldie, yet a goodie, the Orange Cranberry Club.
As usual it didn't disappoint as it took me about 5 minutes to devour the entire meal! You really can't miss as far as finding something on the menu you will enjoy. My mother likes the Muffaletta allot, as when I was home, she would always order that one, and my sister and brother were big fans of their Giant Spuds.
As a true southerner, I am a huge sweet tea and lemonade fan, and once again, McAlister's doesn't disappoint in that area. There aren't many places around that can rival publix tea and lemonade, but McAlister's is not your ordinary place to eat. In fact, they are both so good it almost makes you want to slap someone!
So when it comes down to where to eat in Tampa Bay, you can't really go wrong with this place, as it's a great place for the family to sit down and grab a quick meal on their way to MOSI, Busch Gardens, or other Tampa Florida attractions, or if you want to bring a date and just relax feel free to do so. Did I mention that they even cater! If Jerm ever gets married one day, then I will be fighting the battle to get the wedding catered by McAlister's, even though I fully expect to lose that battle with my future fiancee.
So go and check it out! If you do happen to make it over there, be sure to ask for Les and tell him Jerm sent you. Les is a fellow Mississippian and will be sure to take good care of you!