Hi Tampa Bay, Alex here to start off the New Year with some sports news…
The 20th Annual Coloplast International Wheelchair Rugby Tournament is taking place January 13- 15, 2012.
Hillsborough County Parks, Recreation and Conservation is hosting the 2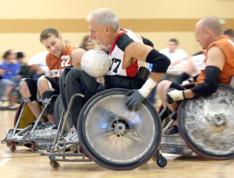 0th Annual Coloplast International Wheelchair Rugby Tournament at All People's Life Center, 6105 E. Sligh Ave. in Tampa. 

This international tournament, which draws teams from all over the world, will feature Tampa's very own wheelchair rugby team, the Tampa Generals.

The Tampa Generals are one of the longest running, and most recognized teams in the U.S. The program is rich in history and has won three National Titles and producing numerous Paralympians.
Wheelchair rugby involves athletes competing in adapted wheelchairs in order to take the ball across the opponents' goal line. It is currently played in more than 25 countries. The World Championships are held every four years, where the best teams in the world compete for the overall championship.
Event Dates & Times
Friday, Jan. 13 from 9 a.m. – 3 p.m.; Saturday, Jan. 14 from 9 a.m. – 6 p.m.; and Sunday, Jan. 15 from   10 a .m. – 1 p.m.
For more information, contact Wayne Bozeman, All People's Life Center at (813) 635-8293.
I hope you are all off to a great start this New Year! Check back with us often for updates on Things To Do in Tampa Bay and for more information on Tampa Bay Sports.