Well that title pretty much says it all gang. Jerm is in love with the Mermaids of Weeki Wachee after watching them perform this weekend at the
Florida Aquarium
! Apparently the rest of Tampa Bay is in love with the Mermaids as well, because the Aquarium was packed to the rim!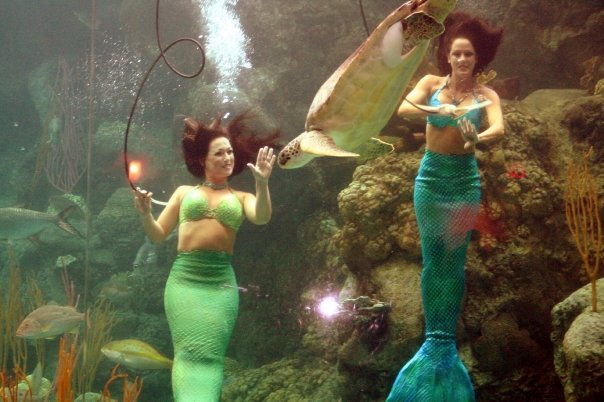 I was able to catch the 2pm show on Saturday inside the
Coral Reef Aquarium
where Marcy, Cyndi and Shannon were on display for the large crowd doing their Mermaid thing. If you havent seen this already guys I suggest you try and get to where ever there next show is.
These ladies litterally move like fish in the water as they interact with the wildlife in the tank with them. There were plenty of children there (including myself) who were ooooing and ahhhhing at every moment. I can barely hold my breath underwater, much less keep my eyes open and move around and interact with an underwater environment. Oh yeah and did I mention they are beautiful! Yowza!
I think we may have blinded the mermaids with all of the flash bulbs going off from the onlookers trying to snap photos at every opportunity, but I would imagine they are used to being photographed. I think I even saw one of the Mermaids give me a wink... (okay so maybe that's a lie, but a guy can dream right? Hey who knows, I heard this story one time about a Mermaid trying to find her prince charming....that could be me!
Big shouts go out to the Florida Aquarium for bringing this event to Tampa Bay and also to the girls Cyndi, Marcy and Shannon for putting on a great show, and even being gracious enough to take pictures with their fans (outside of the tank of course). If you want to see more pics of this weekend, be sure to check out their
Facebook Page
which has some great images from this weekend!
Until the next time, stay tuned in for more updates from Jerm on Tampa Florida attractions and cool events!