Hello all on this rainy (and much appreciated) Tuesday morning! As one of my last posts before leaving my short-time internship at Tampa Bay & Company, I wanted to tell you a little more about our new Ikea. I must admit...I never understood the hype about Ikea..it's just another furniture store, right? Evidently not. Perhaps you know most of the Ikea treasures... but perhaps not.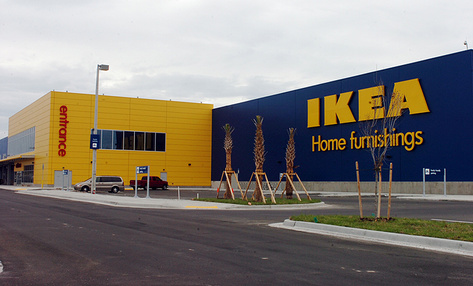 Not only does IKEA provide Tampa with a place for very affordable and creative furniture and home accessories, it does so in a way in which no other furniture store has thought of.
Did you know that while you shop for your perfect couch or bath mat you could be eating breakfast or lunch at the IKEA Bistro?
Furthermore, what stops most people from furniture shopping? Small children who want nothing more than to cry and jump on the beds. IKEA has  conquered this problem as well. IKEA's SMALAND play area is host to your kids while you shop around. If you'd rather take them with you, IKEA has strollers available. And for those who take advantage of the food, there are kids' meals starting at $.99 and bottle warming stations in the restaurant. Have you ever heard of such a thing?
If you're like my parents, you prepare for every incident and walk around with an endless supply of unnecessary items. However, if you are not this prepared, IKEA has prepared for you. They will provide you with a yellow bag of supplies like a measuring tape, pencil, paper, and a catalog of the store. Still not sold? If you purchase small accessory items at IKEA you will take them home in indistructable blue bags that help save the environment for only $0.59!
If you've ever walked around a furniture store and haven't found the details on a couch you like and no one is asking if you need help, you probably lost all faith in furniture stores and went stubbornly on home. No need to fear IKEA then! You can be assured that not only will their staff be helpful, but each item has a fully detailed tag of information for your pleasure!
Click here
for a virtual tour & more!
So on this rainy weekend, be sure to take a family trip to our IKEA, even if you just want to look to see what it's all about! They will have extended hours through May 25th from 10am-9pm.