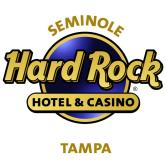 Good afternoon everyone, who listens to rock music? If you do, Alex here to tell you about a great rock singer and band coming to the Hard Rock Café this July.
Iconic rock and roll innovator Joan Jett and the Blackhearts will perform in the new Hard Rock Cafe Tampa at Seminole Hard Rock Hotel & Casino on July 13 at 10 p.m.
 
Joan Jett is an originator, an innovator and a visionary. As the leader of the hard-rocking Blackhearts, she's had eight platinum and gold albums and nine Top 40 singles, including the classics.
 
Her music has become a permanent force in mainstream culture. Faith Hill sings "I Hate Myself for Loving You" as the theme for NBC's Sunday Night Football and "Bad Reputation" was the theme song for the "Hit Girl" heroine of the hit film, Kick Ass.  Her cover of "Love is All Around" (the theme song of The Mary Tyler Moore Show) became an anthem in women's sports and was used by the NCAA to promote the Women's Final Four. Jett supplied theme songs for the ESPN X-Games premiere and has contributed music to all of their games since.
 
Adding to Jett's list of accomplishments is Blackheart Records, an independent label she founded with long time songwriting partner and producer Kenny Laguna, in 1980 - which made her the first female artist to own and operate an independent record company.
 
The multi-talented Jett has acted in movies, including 1987's Light of Day, and in the Tony-nominated Broadway musical, The Rocky Horror Picture Show.
 
As a producer, she has overseen albums by Bikini Kill, Circus Lupus, as well as the Germs' LA punk masterpiece, GI. Additionally, she is a spokesperson for PETA and a devoted supporter of the U.S. Military. 
 
You don't want to miss Joan Jett and the Blackhearts appearance in Tampa on July 13, so buy your ticket today!
Get your tickets at the Hard Rock Store and all Ticketmaster outlets. Tickets cost $45. (General admission, standing room only) Doors open at 9 p.m.
For bottle service call the Hard Rock Cafe Tampa at 813-627-7755. Must be 21 years of age or older.
Check out more information on Joan Jett and the Blackhearts,
here
.
That is all for now, but come back often to learn more about Tampa Bay Events and for information on fun Things To Do In Tampa Bay!