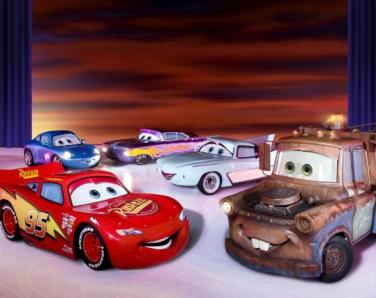 Ok, so it's not real ice, but it's Disney On Ice!  I can tell you from personal experience that these are some of the coolest (no punn intended) Tampa Bay area events that you'll make it out to this year.  I don't care what age you are, these are so much fun to go to (but especially if you have little ones with you). 

But anyway, Disney On Ice presents Worlds of Fantasy opens next week at the St. Pete Times Forum.  It'll be from May 14-17, and Worlds of Fantasy features four fun-filled classic and current Disney stories.  Beloved characters from Disney/Pixar's Cars, Disney's The Lion King and The Little Mermaid, as well as the magical cast of Fairies from Disney's Tinker Bell will be showcased.

Plus, life-size Disney/Pixar's Cars characters – Lightning McQueen, Tow Mater and the crew – will take their high-octane personalities to the ice.  Featuring state-of-the-art, custom animatronics, their eyes and mouths move with every twist and turn on the frozen highway.  Mater has amusing antics in store as the Cars characters convoy to rock the ice with jumps, spins and freewheeling fun.

A bonus experience beginning 60 minutes prior to show time and complimentary with ticket purchase, is the Disney Princess Pre-Show.  Prior to each Worlds of Fantasy performance, families will be treated to an exclusive collection of enchanting ball gowns and mementos from the Disney Princess stories.  A real live Disney Princess will be at the exhibit as well to meet guests.  The display features beautiful settings for photo opportunities.

I know I know...when are these awesome shows playing????  Well, here are the show times: Thursday, May 14 at 7:30 p.m.; Friday, May 15 at 7:30 p.m.; Saturday, May 16 at 11:30 a.m., 3:30 p.m. and 7:30 p.m.; and Sunday, May 17 at 1:00 p.m. and 5:00 p.m. 

Tickets aren't bad either - Ticket Prices: $16, $22, $30, $40 (VIP), $50 (floor seats), $75 (Fantasy Dining).  Adn they can be purchased at all Ticketmaster outlets, the McDonald's® Box Office at the St. Pete Times Forum, or by calling 800-745-3000.

AND we will be doing a giveaway for a family four pack tomorrow afternoon.  But as with all of our giveaways, you'll have to answer a Tampa Tourism Trivia question, AND you have to be following us on Twitter (www.VisitTampaBay.com/twitter). 

Remember that when the question is posted on the twitter site, you have to be the first to respond with the correct answer, and you'll get the family four pack to Disney On Ice presents Worlds of Fantasy!  This is definitely some of the best Tampa Bay entertainment out there! 

So, stayed tuned and we'll see you tomorrow.