Hey Tampa, Lisa here with an update from one of our venues in Ybor City!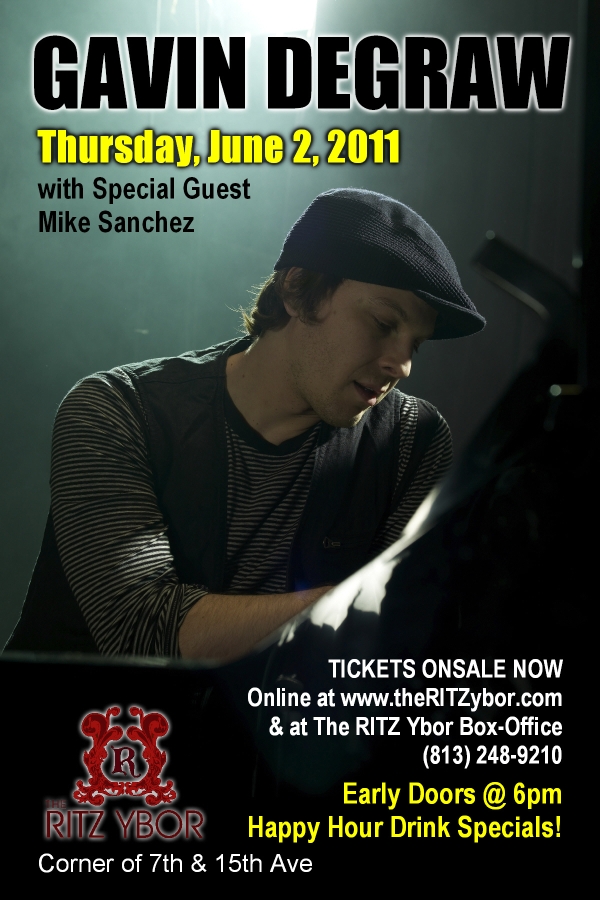 The Ritz Ybor is hosting
Gavin Degraw's
only solo Florida show TONIGHT! Special guest Mike Sanchez will be the opening act.
Gavin is known for his hit-singles "I Don't Want to Be," Chariot," "In Love with a Girl," "We Belong Together," and "Follow Through." He is going to be touring with Maroon 5 and Train in July and August as their supporting/opening act.
In addition to touring all summer, Gavin's fourth studio album called "Sweeter" will be released in early August. While his new single from the album is due out this month.
Tonight doors open at 6 and the show is tentatively scheduled to start at 8pm. General admission tickets are $20 and are
available online
and of course at the Box-Office.
So if you're looking for Things to do in Tampa Bay tonight, here's your answer. Head on over to Ybor City and enjoy an awesome show.
That's all for me, but check in later for other Tampa Florida Events!