Well hello Tampa. Lisa here with a cool new addition to the already hip Hyde Park.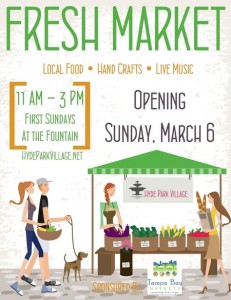 Hyde Park Village is partnering with Tampa Bay Markets to launch the new
Hyde Park Village Fresh Market
. What does this mean you ask, I will tell you oh faithful reader.
The first Sunday of every month, at the fountain in Hyde Park there will be a Fresh Market. Come rain or come snow the market will still go on. Ok maybe not snow. The festivities begin at 11am and end at 3pm.
Shoppers strolling along will enjoy a variety of agricultural, artistic, homemade and handmade goods, as well as take-home and ready-to-eat foods. The Fresh Market will feature live music, cooking demos, outdoor seating and more! With space for over 70 vendors, it's sure to offer a bit of everything.
For the rest of 2011 the dates are as follows. Sunday, April 3, May 1, June 5, July 3 (or not because of the holiday weekend. We will let you know about that one), August 7, September 4 (again subject to change because of the holiday that weekend), October 2, November 6, and December 4.
Good news, parking is FREE, admission is FREE, and if you have a cute little pup you can bring it if it's on a leash (man I need a dog)! What a great way to enjoy a little Tampa Bay Weather! And don't forget no matter what it throws at us, the market will still be held.
If you are reading this thinking you have the perfect agriculturally related product to offer, contact Tiffany A. Ferrecchia, Market Operations Director of Tampa Bay Markets, ad freshmarkethydepark@tampa.rr.com. 
Ok that's all for now loyal fans, but never fear chances are great that we will have other Tampa Bay Area Events to tell you about soon!
Over and out Tampa.