Okay gang, so I spoke about this last week, and have a bit of good news and a bit of bad news. Which would you like first? Well if it were me then I would want the bad news first, so that is how I am going to proceed.
Bad News - We will only have one prize to giveaway this week for Howl-O-Scream. remember in my recent post I said otherwise. Long story short, I am a moron and got my own details confused. Don't hate me though as I promise to make amends.
Good News - The prize that I do have to give away is a darn good one!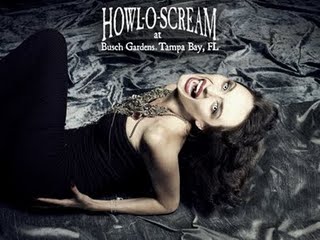 If you were not aware, Ms. Vayne
will be leaving us this week
as one of our favorite Tampa Bay area events,  Howl-O-Scream will come to an end. If you haven't been just yet, then Jerm has a chance for you to win big during the final week.
And even if you don't win, then be sure to get out there and experience Ms. Vayne and her crew for one final time this go round!
Now of all of the giveaway we have done, this is quite possibly going to be one of the best prizes.
This time if you are indeed the lucky winner, you will get a 4 - pack of tickets with front of the line access, fear passes, and tickets to
fright feast
.
Now all you have to do is pay attention tomorrow between 10 a.m. and noon tomorrow for me to post another blog with the details on how to win. Yes I know that is a window and not an actual time, but I wouldn't be any fun if I didn't keep you guys guessing! Makes it a bit more interesting don't you think... okay maybe not!
That's it for now, stay tuned in for tomorrow as we announce the game details! Keep checkign back for more giveaways and things to do in Tampa Bay!