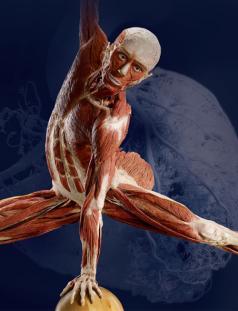 Ok, I know you are intrigued after that heading...so to clarify, we aren't talking about anyone's body, we are talking about the Body Worlds exhibit at MOSI. 

Our interactive guy (and premier blogger) Jerm and I set out the other day to experience this new exhibit at the largest science center in the southeastern US, and when we got there, to say we were excited would be an understatement. 

But, for those of you who arent' sure what I'm talking about, here's a brief description of the exhibit -

BODY WORLDS & The Story of the Heart offers a once in a lifetime opportunity to take a detailed look into the human body and the world of the cardiovascular system.

It offers insights on the human body and disease, and looks closely at the heart—revealing through the lens of anatomy, cardiology, psychology and culture how this four-chambered muscle nourishes, regulates and sustains life.

Ok, so now you have the gist, and I'm telling you that this is an awesome event...and I know Tampa Bay entertainment!  When it comes to things to do in Tampa Bay, this needs to top the list...especially because it's only here for a limited time (it's still here for a while, but plan your trip now!). 

I won't ruin any suprises for you, I'll just tell you that you've never seen anything like this before (unless you've been to this exhibit before, in which case you need to come back because it's better than the last one). 

So, until next time, enjoy the bodies and keep checking back for more Tampa Bay entertainment options and updates.