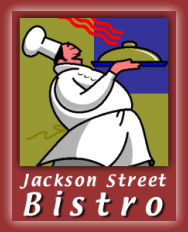 Hey there Tampa, this is Lisa with an awesome update from some of our favorite Tampa Bay Dining.
Coming up this spring  located in the SunTrust Building downtown will have a liquor license! This is exciting news. With their liquor license they will be able to host happy hours Monday through Friday until 7pm. What a great way to end a work day! Along with their happy hour drinks, there will of course be great food available.
Not only will they be doing happy hours during the week, the space will be available for private gatherings. You can rent a portion, or the entire space to entertain and enjoy the great catering provided by the bistro.
For those who don't know, Jackson's Street Bistro is located downtown in the SunTrust Building and they are open Monday through Friday from 7am to 3pm. They offer breakfast and lunch, dine in or carry out. And they also offer catering.
If you haven't been to Jackson's is a great spot for a breakfast meeting or lunch gathering. There is indoor or outdoor seating available and they have a very friendly staff and the food is really good. I've been there a few times myself! With the addition of their liquor license they are sure to become even more popular!
That's all for now, but stay tuned for more Tampa Florida News Updates, and other Things To Do In Tampa Bay!