Hello Tampa Bay! Lisa here, with a fun Tampa Bay Sports update. This is for all my hockey lovin' ladies out there!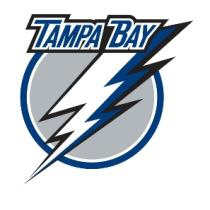 Do you like Hockey? (Yes) Do you like heels? (Duh) What about hockey players? (Is that even a question?) Ok, so I'm thinking everyone answered yes to those questions. And even if you didn't, this is still a really fun event.
Our very own
Tampa Bay Lightning
are hosting the 8th annual Hockey N' Heels event. This year's festivities are going to take place on Monday November 8th from 6-10pm at the St. Pete Times Forum in Channelside.
So what exactly is Hockey N' Heels? (Besides the greatest collaboration ever) The goal is to educate participants about hockey. To help out, they will have On-Ice instruction with Lightning players, rules officials, a coaches' chat, and Lightning personalities. And I'm sure you guessed by the name of the event that it is designed for the female audience (yeah ladies, let's show some hockey support!).
Tickets for this awesome event are only $75. But listen to what's included. Admission to the Hockey N' Heels program, plaza level ticket for the Lightning vs. Toronto Maple Leafs November 9th at 7:30pm, meet lightning players, coaches, off ice personalities, and training staff, and appetizers and drinks following the Hockey N' Heels event. St. Pete Times Forum Tickets on the plaza level are usually $67.75, and you don't get to meet hockey players, so this ticket price is pretty amazing.
The deadline to order tickets is Friday, November 5th. And you can place your order by calling Behn Custard at 813-301-6755.
That's all for now on Things To Do In Tampa Bay, but keep in touch for the latest updates!