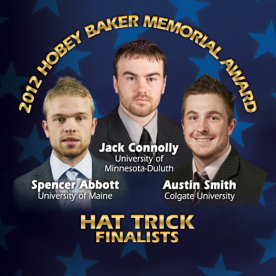 Hey there college hockey fans!
The Hobey Baker Award is the most prestigious award in all of men's college ice hockey, honoring the top player in college hockey.
This year's Hobey Baker Award winner will be announced Friday, April 6, 2012 from MacDill Air Force Base in Tampa, FL during the NCAA Frozen Four.  The 32nd annual announcement will be aired live on the NHL Network at 6:00 p.m., ET, and at the Hobey website, www.hobeybakeraward.com.
The three finalists are the following listed below Spencer Abbott, Jack Connolly, and Austin Smith. The criteria in order to qualify for this award is more than just being a force on the ice, but having a dominant presence in the community.
Candidates must contribute to the integrity of the team and display outstanding skills in all aspects of the game. Consideration of a candidate should be given for both scholastic achievement and sportsmanship.
All candidates must comply with all NCAA rules, be at an accredited college or university, and complete 50% or more of the season.  
Spencer Abbott
Abbott, a senior forward from The University of Maine, the once recruited walk- on four years ago, will take his skills to the next level with the Toronto Maple Leafs, signing a one year contract four days after his team was eliminated from the NCAA tournament. He will be playing for the Leafs farm club, the Toronto Marlies. Abbott a 5'10 175 lb. forward, known for his speed has led the NCAA in scoring with 21 goals, and 41 assists. He was named Hockey East Player of the Year, Hockey East Player of the Month in December and February, Player of the Week three times, and Hockey East First All Star Team. Abbott fulfilled his degree as a Family Relations major and has been on the Dean's List three times. Off the ice Abbott is active in the community helping with Special Olympics, and assisting at youth hockey clinics.
Jack Connolly
University of Minnesota Duluth 5'8, 155 Ib. senior forward Jack Connolly finished second in the NCAA to help Duluth lead as the second highest scoring team in the nation this past season. Known for great foot speed, and his vision on the ice, he set the school record playing in 166 games, not missing one during his four seasons, finishing eighth in program career scoring with 66 goals and 131 assists. Connolly led UMD to its first ever NCAA Men's Championship in 2011. He is a two time All- American, first three time first team WCHA- Selection in school history, and repeat Hobey top ten finalist. The hometown native from Duluth is very involved in the community with the Boys & Girls Clubs, visiting Duluth hospitals, adopt a highway and working with various cancer fund-raisers. He's a Communications major with a 3.3 GPA. He is a pro hockey free agent.

Austin Smith
Austin Smith 5'11, 180 lb., senior forward of Colgate University rounds out his college hockey career as one of the top scorers in all of college hockey, scoring 20 goals faster than any college player in the last 12 years, finishing + 25, making him third in the nation. He finished the year out with 36 goals and 21 assists. He led the nation with 6 shorthanded goals and seven power play goals. Smith was awarded the EAC scoring title this past season, Conference Player of the Year, and First Team All Star, not to mention a fifth round draft pick for the Dallas Stars. Smith graduated with a Sociology and Anthropology major, and is involved with the Hamilton NY Food Cupboard, assisting with food and toy drives, and the Goals for Good program.
Well those are your three finalists folks! Be sure to be watching to see who wins this year's award, and also check back for more updates on Frozen Four things to do in Tampa Bay!