Displaying the collection from the first museum of modern art in America, Tampa Museum of Art is hosting To See As Artists See: American Art from the Phillips Collection.
One of only three U.S. museums to host the exhibition, The Phillips Collection will run at the Tampa Museum of Art until April 28. The collection offers 100 paintings by 75 artists that show the history of American painting from the 1850s through the 1960s. Artists include Winslow Homer, Thomas Eakins, Childe Hassam, Rockwell Kent and Georgia O'Keeffe.
The Phillips Collection began when Duncan Phillips created The Phillips Memorial Art Gallery in his Washington, D.C. home in 1921 as a way to honor the lives of his father and brother.
Museum hours:
Monday – Thursday: 11 a.m. – 7 p.m.
Friday: 11 a.m. – 8.p.m.
Saturday – Sunday: 11 a.m. – 5 p.m.

Admission pricing:
Adults: $12
Seniors and Florida Educators: $10
Active Military (plus guest): $10/each
Students: $5
Children 6 and under: free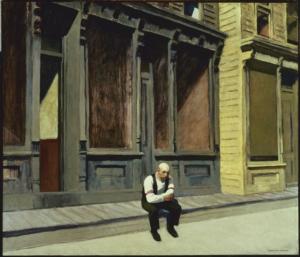 Edward Hooper, Sunday, 1926                                                       Winslow Homer, To the Rescue, 1886
Oil on canvas, 26 1/8 x 21 5/8 in.; 66.36 x 54.923 cm                 Oil on canvas, 24 x 30 in.; 60.96 x 76.2 cm
The Phillips Collection, Washington, D.C.                                     Acquired 1926
Stay tuned for more fun things to do in Tampa Bay!