Hey there everyone!  We're back with another quick update from the media center for Super Bowl XLIII in Tampa Bay. 
Now, in between helping the media out with questions about our area (which takes up a great majority of the time), we get to see some shining, and somewhat famous faces walking around. 
Well, here it is folks...Tim McGraw and Faith Hill made their appearance at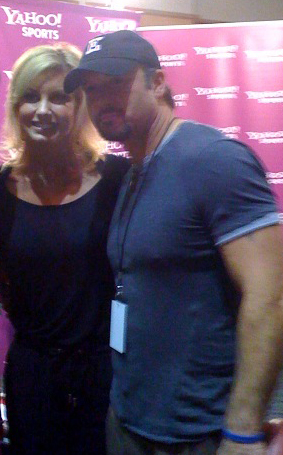 the media center!  Now, even if you aren't a country music fan, you have to be a Tim McGraw fan (for the ladies) and a Faith Hill fan (for the guys)! 
But that's just the start of the celebs that are making the rounds at the Tampa Convention Center for Super Bowl XLIII.  We've seen everyone from Mike Ditka to Deion Sanders, and they are still coming in. 
So, stay tuned for more updates from the Media Center as we prepare to host Super Bowl XLIII in Tampa.  Plus, keep checking back for updates about the parties, Tampa Bay area events, and other things to do in Tampa Bay. 
Plus, we'll be bringing you the best Tampa Bay Entertainment as we move in to the weekend, including Tampa Bay tours, and everything else gearing up for the Super Bowl in Tampa Bay. 
Until next time, keep your eyes out for more celebs...