Let's cut to the chase: Every time I think I know about all the awesome things we have going on this Saturday in Tampa Bay, something else crops up.
From RiverFest to Dragon Boats to an day-long music festival to a remembrance of Prince, there's enough happening to fill two weekends. 
Here's how I recommend you spend Saturday in downtown:
8 a.m.: Breakfast at Oxford Exchange: Downtown's ubercool eatery is the best place for an omelet big enough to power you through this day.
9 a.m.: Do you part and join the Make A Wish Foundation's Walk for Wishes fundraiser at Curtis Hixon Waterfront Park for a two-mile stroll. It'll do your heart and your soul a lot of good.
10 a.m.: Swing by Cotanchobee Fort Brooke Park for Asia Fest. The Tampa Bay International Dragon Boat Races will be getting under way.
11:30 a.m.: Grab your favorite Asian Fest nosh. But take it to go or you'll miss Tampa Shakespeare Festival's performance of "Much Ado About Nothing" in Water Works Park. Artfully dodge the Riverwalk crowds by hopping the new Pirate Water Taxi outside Tampa Convention Center for a ride to upriver to the show.
2 p.m.: After all's well ends well with Shakespeare, grab a quick rental from Coast Bike Share outside Ulele and cruise south on the Riverwalk to MacDill Park. Drop your bike at the station there and grab a quick drink from "The Plank," the Riverwalk's pop-up bar. Take a while and watch the world go by. Oh, and the SPCA will have puppies to pet.
You're going to have a tough time doing it all Saturday evening, so here's where you get to choose your own adventure.
ADVENTURE 1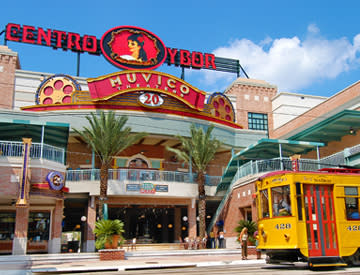 4 p.m.: Walk two blocks to Whiting and Franklin streets and hop the TECO Historic Streetcar for a ride to Ybor City. WMNF-FM's 35th annual Tropical Heatwave music festival will just be warming up when you get there. The ginormous show boasts dozens of bands on stages all over the district. Order your tickets ahead of time, or pick them up at The Ritz when you get there. The bands start at 5:20 p.m. and play until 1 a.m.
8 p.m.: Ride the streetcar back downtown and hustle down Franklin Street to the Tampa Theatre.
9 p.m.: Pay homage to the late great Prince Rogers Nelson with Tampa Theatre's free showing of "Purple Rain." I give you permission to sing along. And to cry.
ADVENTURE 2
5 p.m.: Stroll the Riverwalk to Curtis Hixon Waterfront Park for a little comfort food dinner at the Mayor's Mac & Cheese Throwdown. You'll be amazed what talented chefs can make out of elbow pasta and cheese.
7 p.m.: Stick around for the River Fest Concert in the park. Wondering what are those hot-air balloons for?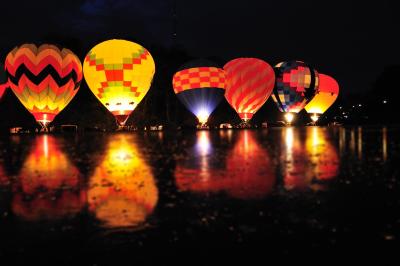 8:30 p.m.: Find out what those hot-air balloons are for when Balloon Glow lights Curtis Hixon Waterfront Park in the like so many enormous bulbs.
9 p.m.: Walk a couple blocks over to Franklin and Zack streets and pay homage to the late great Prince Rogers Nelson when historic Tampa Theatre offers its free showing of "Purple Rain." Smile. Sing. Cry a little.
11 p.m.: Whew. If you still have some energy, you've two hours to enjoy the rest of Tropical Heatwave in Ybor City. Me? I'm going to bed.