Hey Folks! Here are some awesome things going on this weekend in Tampa Bay! Be sure to get out of the house and enjoy it all! We know we will!
MUSIC & ENTERTAINMENT

98 Rockfest
98ROCK, Tampa Bay's Rock Station, unveiled a line-up for 98ROCKFEST that will rock Tampa Bay on Saturday, April 28 at the Tampa Bay Times Forum.

This year's impressive all-star lineup includes: Shinedown, Evanescence, Five Finger Death Punch, Halestorm, Trivium, P.O.D., Adelita's Way, Art of Dying, Otherwise and more (*artists subject to change). Tickets range from $30-$75. For more information call (813) 301-2500, visit the Tampa Bay Times Forum Website!
Cappella Music Festival
Free concert featuring Platinum Recording Artist, Sister Hazel and musical guests Miggs, Jr. Doctor, among others. Backline Music Group will host a day of outdoor music at the Cappella Music Festival featuring live musical performances, food, drinks and fun for the entire family.
General Admission is FREE'Suite Six' VIP package: $50 (includes front row "Best in House" seating, VIP areas and 2 complimentary cocktails, beer and/or wine). To reserve your tickets call 813.250.0011, or visit the website!
FOR THE KIDS

Mummies of the World
An incredible array of mummies and artifacts will be unwrapped for the public at Tampa's Museum of Science and Industry on Friday to reveal a haunting (some would even say creepy) collection of mummified people, pets and wildlife frozen in time.
This traveling exhibit is a rarity because it involves 21 different museums from around the world. Tickets are $18.95 for adults; $12.95 for children ages 2 to 12; $16.95 for seniors. For $5 more you can see both the mummies and the rest of MOSI, (813) 987-6000. mosi.org.

Dragon Boat Races and Asia Fest
Dragon Boat races and Asia Fest Dragons will be lurking in Garrison Channel this weekend as paddlers from across the U.S. and Canada compete to be Tampa's top dragon boat team. Meanwhile, the Asia Fest will run from 11 a.m. to 2:30 p.m. Saturday at nearby Cotanchobee Fort Brooke Park, 601 Old Water St. It's free for the festival and to watch the dragon boats cruising down Garrison Channel starting at 8:30 a.m. Saturday behind the Marriott Tampa Waterside, 700 S Florida Ave., Tampa.

FOOD & WINE
SeaGrapes Wine and Food Festival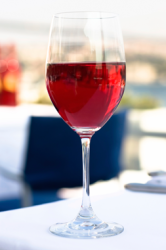 Sea Grapes Wine and Food Festival, The Florida Aquarium's annual food and wine event, set in the aquarium's exhibits, will have more than 100 fine wines, cuisine from area restaurants, live jazz, entertainment and silent auctions. Proceeds benefit aquarium youth education and conservation programs. 8 to 11 p.m. Saturday April 28. $95, $225 VIP. Florida Aquarium, 701 Channelside Drive, Tampa.
Tour De France Dinner at Fleming
Join us for a memorable evening of wine appreciation as we explore the fabulous heritage of French food and wine through an exceptional five-course dinner. For more details check out our blog post, or call 813-874-9463 to make reservations!
Well folks, that's a quick round-up of all things going on this weekend! What are you up, in addition to these great events?
That's all for now, but stay tuned in for more updates on things to do in Tampa Bay!