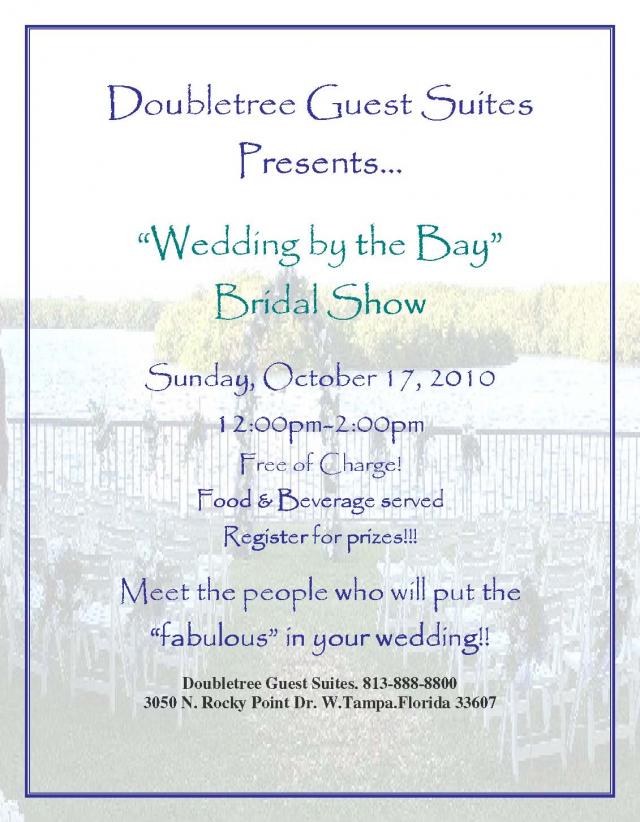 Lisa here, with a fun Tampa Bay Area Event! Now this event caters (no pun intended) to the women of Tampa Bay. So if you're a man, whose not engaged (or even who is), feel free to stop reading at any time. Ladies, listen up.
You (like myself), have probably been planning your wedding for more years than you want to admit. If this is a statement you can relate too, then i have an event for you. Well, to be fair, if you are planning a wedding at all, this is something you won't want to miss!
One of the Hotels Tampa Bay is throwing a Bridal Show. The show is called "Wedding by the Bay." When I hear that, it reminds me of our beautiful sunsets, white sandy beaches, and a glass of wine. Wouldn't it be fun if that were your wedding? I think so. And I'm going to give you the 411 on how to start planning your very ownwedding by the bay!
Wedding by the Bay
is going to be on October 17th starting at noon. It lasts only two hours, so you better come early! It is going to be at the Doubletree Guest Suites at 3050 N. Rocky Point Dr. W. Tampa Florida. The best part of the event...it's FREE, yes you heard me, FREE! There is no reason not to attend. They are also going to have food and beverages, as well as, prizes. I don't have a wedding to plan, but if I did, I would be at this event!
As they say, Come meet the people who will put the fabulous in your wedding!
That's all for now, but stay tuned for more Tampa Bay Hotel Updates!