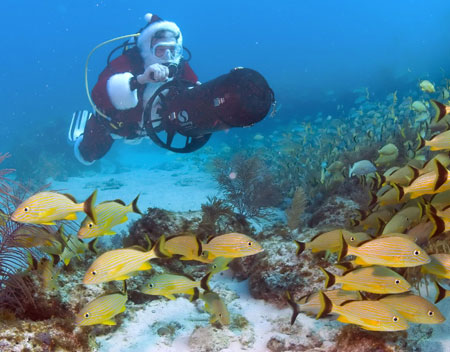 Hey everyone...Travis back again!  Here comes Santa Claus! Here Comes Santa Claus!  Have I mentioned that here some Santa Claus? 
Saturdays leading up to Christmas (the 12th and 19th and Members Night, Dec. 22 from 6 to 9 p.m.) Santa will be at The Florida Aquarium for pictures from 10:30 a.m. to 1:30 p.m.
Santa's elves will be SCUBA diving in the Florida Aquarium's Coral Reef exhibit during the daily dive shows the first 3 weekends in December.
Plus, Santa Claus is coming to the Victorian Christmas Stroll on Wednesday, December 23rd from 10am-1pm. Complimentary with your Stroll admission, Santa will sit in the authentic Writing and Reading Room of the Tampa Bay Hotel and listen to children's requests.
You can even bring a camera to commemorate this unique occasion, but remember no "flash photography" in the Museum. 
In case you haven't heard, there are 100 Christmas trees placed throughout the decorated halls, rooms, mantels and display cases during the Victorian Stroll. 67 of the trees are very small, one is 15 feet tall. (let me know if you can you find every one). 
Have fun with Santa, and I'll see you back here as we bring you more great things to do in Tampa Bay!