The Victorian obsession with Japanese culture wasn't limited to collecting objects.  Some individuals dressed in kimono and hosted Japanese tea and dinner parties.  The Henry B. Plant Museum offers you the opportunity to immerse yourself in the rich tradition of the Japanese Tea Ceremony on Saturday, October 27th at 2:00 pm in the Music Room, Plant Hall.
Join local tea master Kim ­­­­­­­Pham of Kaleisia Tea Lounge as she demonstrates the serene art of the tea ceremony.  Participants will have the opportunity to mix their own matcha green tea and sample two additional types of Japanese tea.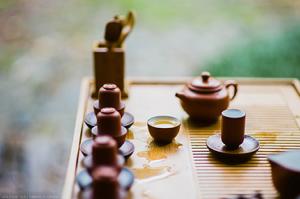 Details: Reservations are required and seating is limited.  Contact Heather Trubee Brown at htrubee@ut.edu or 813.258.7304.  Cost is $5 for Museum members and $15 for non-members.
The Japanese Tea Ceremony evolved from a beverage used in gambling games for the elite to a form of meditation and self-enlightenment.  The Ceremony we know today took was refined by Sen Rikyu in the 16th Century and is a culmination of various Japanese art and aesthetics.  It may take a month to learn the steps to perform the Japanese Tea Ceremony but a lifetime to master it.
Kim Pham co-founded the Kaleisia Tea Co., a community tea lounge in Tampa, FL. She has traveled extensively to study tea's history, ceremonies and manufacturing processes.  In 2006, she traveled to Japan for training in the Japanese Tea Ceremony and she has been a devoted student since.
Stay tuned for more fun arts & culture activities to do in Tampa Bay!
The Henry Plant Museum interprets the turn-of-the-century Tampa Bay Hotel and the lifestyles of America's Gilded Age.  Critical to the success of this mission is the restoration and preservation of this National Historic Landmark, an opulent 1891 railroad resort, and the artifacts significant to its history, and the life and work of Henry Bradley Plant.  The Museum is open Tuesday through Saturday, 10 am to 5 pm, Sunday, noon to 5 pm.  Closed Monday, Thanksgiving and Christmas.  Admission is $10 per adult, $7 for seniors (65 yrs.), $7 for students and $5 for children 4 – 12 yrs.