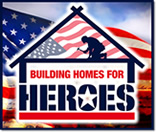 Hey Tampa, Lisa here with a really neat fundraiser happening in Tampa.
Dream Makers Events is partnering with Homes for Heroes to support a local hero of our own. There's no real way to paraphrase why this is so important so I'm going to just literally copy almost word for word from the
Building Homes for Heroe's website.

"Army Sergeant Joel Tavera of Havelock, NC was deployed to Iraq in the fall of 2007 when he was just 19. Before enlisting in the Army he spent two years serving as a volunteer fireman.
In March of 2008 the Humvee that Joel was in, was hit by five rockets. The blasts killed three men. Tragically, Sgt. Tavera lost sight in both of his eyes, his right leg, four fingers on his left hand, and suffered very serious head trauma and critical burns to 60 percent of his body. He has been told he is the second most injured Army soldier to survive since the war in Iraq began. Joel received The Purple Heart and Bronze Star.
His will, his passion for life, along with his extraordinary spirit and perseverance, serve as an example for anyone who is facing difficult times."
In order to help build this deserving soldier a home,
Dream Makers
Tampa is hosting a free night with drink and appetizer specials at The Kennedy on March 25th.
Come out for some Tampa Bay Dining and help Sgt. Tavera gain some of his independence back.
That's all for now, but keep checking in for more Tampa Bay Area Events, and other Things To Do In Tampa Bay!