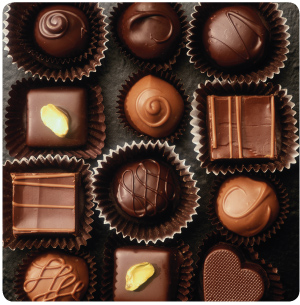 Well hello Tampa! Lisa back to give you the final skinny on !
Yesterday I told you about some of the vendors and why they are so obsessed with Chocolate, and today I'm going to do the same thing! Mostly because who doesn't love to read about chocolate???
Planet Smoothie will be at the Festival, and they are actually located right down the street from MOSI. What makes them unique is the use of real ingredients. And one thing you should try from them is the Chocolate Elvis. In this smoothie there is chocolate, peanut butter, bananas and vanilla yogurt. Um, yum.
The Cupcake Spot will also be handing out the chocolate at MOSI and they are located in South Tampa, and St. Pete. Owner Nicole Longo "loves putting smiles on people's faces with our sweet bites of happiness!" She also recommends the signature 'Better Than' cupcake and their "Dulce De-Licious' cupcake. Sounds good to me!
Lastly we have Mikey's Custom Creations CAFE & BAKERY located in West Tampa. They make creative cakes for all occasions, Comfort Food for the daily grind with a touch of good old fashioned Southern Hospitality. And their "must tries" are a chocolate espresso indulgence brownie, and Chocolate peanut butter pie. Woah!
Everything that's happening at this event sounds awesome! So get out there and enjoy one of the many Tampa Bay Area Events happening in January! This one runs on the 15, 16, and 17th!
That's all for now, but keep looking for more Things To Do In Tampa Bay, and other Tampa Florida News Updates.