Alright listen up my little fashionista's, lovers of all things Louis'! Kat here to tell you about all the events happening for this year's Tampa Bay Fashion Week!
Tomorrow kicks off Tampa Bay Fashion Week, the Bay area's official fashion week.  Whether you are a devoted lover of fashion or interested in upcoming fashion trends this is THE fashion event of the year!!!
Plan to enjoy a week full of fashionista festivities.  Starting Friday, September 13, the official kick-off begins with a FREE fashion event from 10 a.m. – 9 p.m. at International Plaza.  Be sure to check out Dillard's at 6:30 p.m. for a FREE runway show (if you want a seat plan to shell out $25).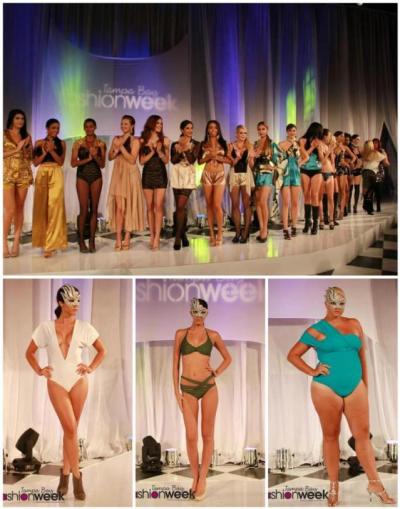 Saturday, Sept. 14, is for the soon-to-be brides.  Piquant Epicure & Cuisine (YES, home of the cronut craze) will host a Fashion and Bridal Brunch from 2 p.m. – 4 p.m. The event is $20.  See a vintage collection of bridal dresses, scrumptious brunch, hair and makeup tips and catch up on the latest wedding trends.
Sunday, Sept. 15 starts with an event for all the "mashanistas (mini-fashionistas)".  Kid Couture at the Glazer Children's Museum is from 11 a.m. to 5 p.m.  Good news is the whole month of September Glazer is only charging $5 for admission! (Adults save $10) What a deal!!!  Sunday night at The Ritz Ybor, the adults can unwind with a special "Cocktails and Couture" event starting at 7:30 p.m. General Admission is $10 ($15 at the door).
Looking to unwind your manic Monday? Monday, Sept. 16 The Centre Club and The Working Women of Tampa Bay will host a "Beauty Bar" at 6 p.m.  Hair stylists and makeup artists teach you the steps to getting runway ready. Cost is $10 for Centre Club members and $15 for non-members.
Tuesday, Sept. 17 takes you across the Bay to the St. Petersburg Museum of History for "The History of Fashion".  The event starts at 6 p.m. and costs $25.
Wednesday, Sept. 18 is a VIP "Model Behavior Cocktail Reception" at Ocean Prime. Sorry folks, this is invite only.
Thursday, Sept. 19 plan on spending your day in Tampa's Channelside district and check out Karma, located inside The Shops of Channelside from 10 a.m. to 5 p.m. for a "pop-up shop" and then stroll around Channelside at 6 p.m. for the "Fashion & Design Day", a FREE event at various locations in Channelside.  Those looking for a VIP media preview, cost is $35.
Friday, Sept. 20 is the grand event "Fashion Designer Runway Show & Fashion Week Tampa Bay Boutique" at the newly renovated Hilton in downtown Tampa at 6 p.m. Cost is $85 for VIP ($125 at the door pending availability) and $40 for general admission ($65 at the door).
Saturday, Sept. 21 Bloggers unite at the "Bloggers Brilliance Conference" at the Channelside Bay Plaza from 10 a.m. to 6 p.m.  The Cost, $40.
Ready to hear a BONUS?
Tampa Bay Fashion Week is offering Girlfriend (& Guyfriend) Getaways! That's right…. Grab your shopping buddy and enjoy discounted hotel rates.  Click this link for more information: http://www.fashionweektampabay.com/stay-play/
For a full Tampa Bay Fashion Week calendar and more information visit: http://www.fashionweektampabay.com/