Hey Sports Fans - Happy Holidays to all of you out there!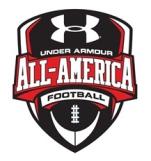 The 2012 Under Armour All-America High School Football Game is taking place January 5th at 7:30 p.m. at Tropicana Field and will be broadcast live on ESPN! 

With that being said, NFL Legends Herm Edwards and Steve Mariucci have just been announced as the head coaches for each of the All-Star high school teams facing off in the game. Coach Edwards will head up Team Blur (White Team), while Mariucci will lead Team Highlight (Black Team). Both coaching staffs will consist of former NFL coaches acting as offensive and defensive coordinators. The team rosters will feature the nation's top high school football prospects!


If you would like more information on the game, including the rosters for both teams, click here!

To purchase tickets for the January 5th All-Star contest, click here!

Stay tuned for more local Tampa Bay sports updates. Happy Holidays again to everyone!