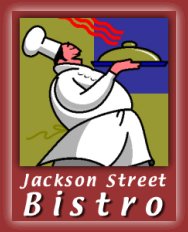 Hey everyone.  Travis here with some really good Tampa Bay dining information for you.  If you haven't tried the new Jackson Street Bistro, it's time to change that! 
If you have tried it, then you know it's a great place for breakfast and lunch.  Well, soon, it's going to be a great place for happy hour too!!!  You heard me right, happy hour! 
Soon (probably middle to end of March), they'll be serving lite Dinner and appetizers until 7pm Monday thru Friday. 

So, while you're in there for breakfast or lunch (and I hear they do serve some amazing food), start making your plans for happy hour too.
See everyone back here for more Tampa Bay Entertainment options and other great things to do in Tampa Bay.