Hello there folks! Jerm here with an update for you on a recent visit we took to visit our friends over at the Courtyard Tampa Westshore/Airport!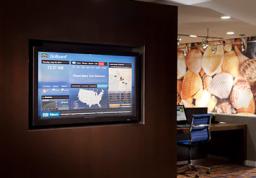 This was my first visit and I was really looking forward to it, as I have always heard great things about Courtyard properties so I knew I was in for a treat. Believe me when I say, that the Courtyard hotel offers the perfect location, close to area attractions and just three miles from the airport.
When you talk about state of the art, it all starts with the lobby at this place. Never seen such cool items that enhance the guest experience quite like this!
The state-of-the-art lobby features a new, more personal arrival experience that is sure to delight even the most traveled road warrior. Some of the highlights include:
GoBoard® - The signature GoBoard®, an interactive, touch screen informational display panel, located in the lobby, allows you to access driving directions, view local weather, find a local restaurant, and catch up on all the latest news. Did I mention its all TOUCHSCREEN! How awesome is that exactly.
Business Library - Get connected with free high-speed Internet access, as well as complimentary printing services.
Media Pods - For more privacy, guests can work or relax in one of the comfortable media pods, featuring free wireless high-speed Internet access, power outlets for cell phone chargers and laptops, and a flat-screen TV with personal remote control.
Theater Lounge - At the end of the day, enjoy a little time outside the room by relaxing in our Theater Lounge. This area is perfect for watching that all-important sporting event and more.
Enough talk about technology, lets talk about where you will spend most of your time... the room! Whether you like King Bedrooms, Double Bed Guest rooms, or Suites, these guys got you taken care of for when you are ready to get to the room and relax from a long day of travel, or long day of exploring Tampa Bay!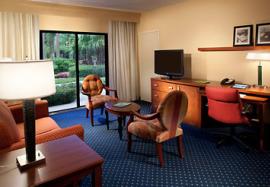 The spacious suite guest rooms feature separate living rooms and additional amenities including a TV in each room, microwave, mini-refrigerator and dry bar. I laid down on one of the beds, and was almost asleep five minutes later, so when you think comfortable beds, think Courtyard!
Each room is also equipped with complimentary high-speed wireless Internet access also, while sticking to that technology theme.
If you are looking to unwind and get away from technology for a second, the patio and outdoor space enables guests to unwind in cozy comfort, enjoy the outdoors, retreat from the hustle and bustle and even be inspired to work outdoors. On a beautiful day like today, there is no place I'd rather be.
If you are in the need to put food in your belly, they got you covered as well! The Bistro provides high quality, freshly prepared meals and beverages in a quick serve café environment. Breakfast features Starbucks coffee and a wide selection of pastries, egg sandwiches, and healthy fruit and yogurt parfaits. In the evening, The Bistro offers fresh hot sandwiches, entrée salads, soups and a selection of craft beers and quality wines.
All in all, its a pretty sweet option if you are looking for a great place to lay your head, while enjoying tons of awesome amenities. For more info, be sure to check out their website and get to booking!
Be sure to check it out on your travels and stay tuned in for more updates on things to do in Tampa Bay!