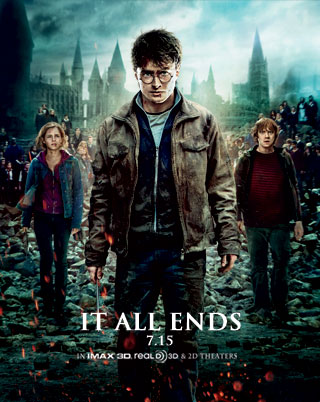 Hey everyone.  Travis back with some very exciting news.  I am about to reveal a fact about myself that many of you may not know...I'm a HUGE Harry Potter fan.  So, it should come as no surprise that I am more than excited that Harry Potter and the Deathly Hallows Part 2 is opening at MOSI this Friday!!!!!!!
MOSI is inviting audiences of all ages to experience Harry Potter and the Deathly Hallows: Part 2 (which EVERYONE should do) on Florida's largest IMAX Dome Theatre screen.  In case you have never been to see a movie on the IMAX Dome, believe me it's worth it!  The IMAX Dome is certainly an engaging 2D experience that is five stories tall and offers a higher resolution than any other theater in Tampa Bay.
Guests can also enjoy expanded concessions at Bar 1570, which offers a variety of drinks, including beer, before or after the movie (as long as you're 21 and up).  All that being said, you have no reason to get your tickets now! 
Tickets are on sale now...just call 813-987-6000 or head over to www.MOSI.org to get more information.  And of course, keep checking back here for more information about Tampa Bay area events and other great things to do in Tampa Bay.