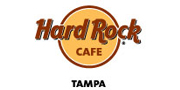 So guys, have i mentioned lately that I love my job? Well if not, last night was more than enough reason to stand from the rooftops and yell "I LIVE THIS GIG!"
Bringing you the latest info and experiences on all of the great things to do in Tampa Bay is no easy task, and one that I don't take lightly, but hey... someone has to do it right!
Well last night it was especially a pleasure to get to attend the sneak preview of the opening of the New
Hard Rock Cafe
out at the
Seminole Hard Rock Hotel & Casino
! In addition to  that, I was also on hand for the second year in a row to see the unveiling of the
2011 Seminole Hard Rock Girl
calendar unveiling! Two delights all in one night!
Expected to become one of Tampa Bay's premier dining and entertainment destinations, the 17,500 sq. ft. Hard Rock Cafe Tampa is located in the in the northwest corner of the existing casino complex, nearly doubling the 9,000 sq. ft. space formerly occupied by Floyd's restaurant and nightclub.
Let me tell you folks that the artists renderings that I had seen previously are nothing compared to being inside the real thing. There was food and girls galore, which is a paradise for Jerm!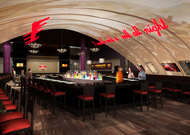 Interacting with rock memorabilia, great food & drinks, and great service are just a few of the amenities when you come here. I didn't get a chance to check it out last night, but rumor has it the patio bar is destined to be one of the hottest spots on the Tampa bay dining and entertainment scene! Oh yeah and did I mention there is an awesome Casino just right out the door!
Oh yeah and I would be remiss if I didn't mention the lovely 2011 Calendar girls! Believe me folks when I say that the calendar is amazing, but it doesn't do these lovely ladies justice when you see them in person. I spent the majority of my evening picking up my jaw from the floor as it would periodically drop.
Be sure to make your way over to the casino and pick up a calendar, but especially do so on December 30, 2011 when all the girls will be available for in person signings of your calendar. I picked up my free copy of the calendar last night and you an rest assured that I will be going back to buy Miss February a drink... oops i mean have her sign my calendar! Yeah right, as much as I brag, i am a nerd and would never have the guts to do something like that (sympathy votes please...lol). On a serious note, all of the girls are equally breath-taking and last night was a great time had by all.
Well folks be sure to go out there and check out the cafe, as I can vouch for its awesomeness! Also be sure to pick up your calendars, and when you do so, be sure to tell'em Jerm sent you! Rock on, and be sure to stay tuned in for more updates on Tampa Bay area events from Jerm!