Hi Tampa Bay, Alex here to let you know Happy Feet Two opens this Friday at MOSI's IMAX Dome Theatre.
Happy Feet Two, the highly anticipated sequel to Happy Feet is goin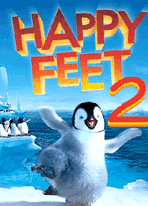 g to take audiences on another chilly adventure this Friday, November 18th at MOSI's IMAX Theatre.

In Happy Feet Two, Mumble, The Master of Tap, has a problem because his tiny son, Erik, is choreo-phobic.  Reluctant to dance, Erik runs away and encounters The Mighty Sven—a penguin who can fly!  Mumble has no hope of competing with this charismatic new role model, but things get worse when the world is shaken by powerful forces.
Erik learns of his father's "guts and grit" as Mumble brings together the penguin nations and all manner of fabulous creatures—from tiny Krill to giant Elephant Seals—to put things right.
Happy Feet Two is directed by George Miller, who won an Oscar as the creator of the original Happy Feet.  The film features the voices of Elijah Wood, Robin Williams, Hank Azaria, Alecia Moore, Brad Pitt, Matt Damon, Sofia Vergara, Common, Hugo Weaving, Richard Carter, Magda Szubanski, Anthony LaPaglia and Benjamin "Lil P-Nut" Flores, Jr.
Happy Feet Two has not yet been rated.

This is a great way to spend a Friday evening with the family. I hope everyone enjoys the movie!

For information on tickets and showtimes, please call (813) 987-6000 or visit www.mosi.org.
Check back with us throughout the week for information on Things To Do in Tampa Bay!