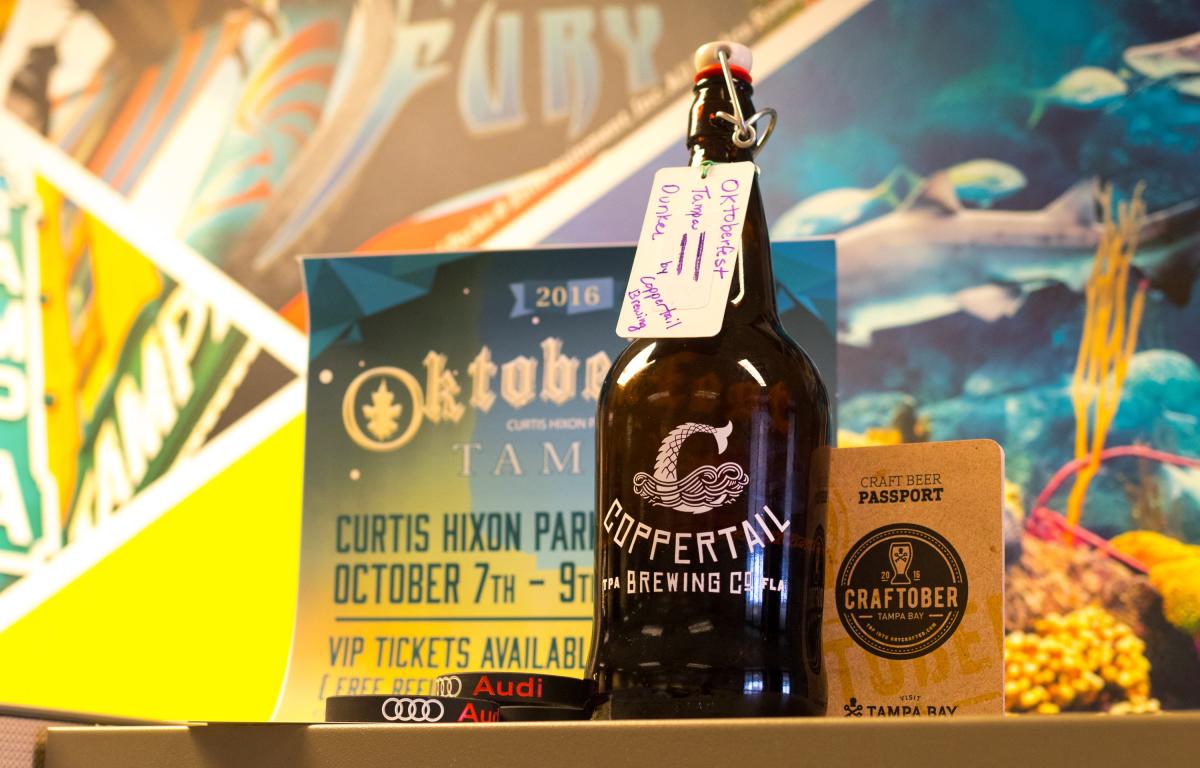 Beer lovers, get hopping: Craftober is here!
All this month, Tampa Bay taps into its growing reputation as a top craft beer community in the U.S. by marking Craftober, a celebration of the local craft beer scene. The party started Oct. 1 and includes some of Tampa Bay's biggest beer festivals. Book your trip now to qualify for Craftober awesomeness.
Visitors will find plenty of special offers, limited-edition T-shirts and loads of events at local breweries.
And alongside Craftober, Tampa Bay will have a howling good time on weekends leading to Halloween.
"Tampa Bay regularly tops the country's list of best craft beer communities," said Santiago Corrada, president and CEO of Visit Tampa Bay, the tourism office for Tampa and Hillsborough County, Fla. "Our dedicated, creative craft brewers are part of a deep tradition here in Tampa Bay. In addition to that, September and October are a gorgeous time to be in here — especially if you're sipping a cool craft brew while smoking a hand-rolled cigar."
When the national Beer Bloggers & Writers Conference came to Tampa Bay in July, one attendee summed up Tampa Bay's craft beer scene this way: "Still surprises me so many places are clueless about good beer… Tampa is not. Crushing it. So goodStill surprises me so many places are clueless about good beer. @MarrWaterside Tampa is not. Crushing it. So good."
Treasure awaits in Tampa Bay – in cans, bottles and on tap.
Craftober
Starting Sept. 1, visitors can book a getaway to Tampa Bay this fall through visittampabay.com and choose a special Craftober package for travel Oct. 1-31. Visitors who come for Craftober will receive, among other things, two passports to select local breweries offering special deals for the month. The list of participating breweries includes:
Cigar City Brewing: A branded hat
Coppertail Brewing: A branded hat
Six Ten Brewing: Glassware and a free beer
Brew Bus: Free Sunday loop and a free beer
81 Bay Brewing: A free flight
Four Stacks Brewing: A bag with stickers, coasters, tasting glass and coupon for a discounted pour
Hiddle Springs Ale Works: Branded merchandise
Craftober is also a great time for Tampa Bay beer festivals:
October 7-9
Oktoberfest Tampa
Celebrate Oktoberfest Tampa with German cheer, dancing and, of course, beer in downtown's Curtis Hixon Waterfront Park on the Hillsborough River. Oktoberfest Tampa 2016 is a time to hoist a stein and unwind with new friends. You'll even learn new customs and sing along to live music. Get your fill of alphorn players, Schuplatt dancers, authentic Bavarian food and outrageous Oktoberfest games! Got a fuzzy lip or chin? Be sure to sign up for the mustache and beard contests. Help tap the first keg Friday, October 7, as the doors open on Tampa Bay's largest Oktoberfest.
October 7
Brews by the Bay
Drink with the fishes amid the cool blue confines of The Florida Aquarium and sample dozens craft beers. Admission includes unlimited beer sampling from Pepin Distributing and food from local Tampa Bay area restaurants. There will also be live music from 8 p.m.-11 p.m. and access to all the Aquarium's exhibits. Tickets are $50 in advance, $60 at the door, $75 for VIP. Craftober participants get $5 off admission.
October 15
Ybor OktoberFest Pub Crawl
Tampa Bay's historic, Cuban-infused Ybor City neighborhood has become the latest hotbed for craft brewing with local legends like Tampa Bay Brewing Co. and newcomers Coppertail Brewing and Rock Bros. Brewing. Twenty Ybor pubs will join the German-themed fun with food, music and beer from 4-8 p.m. Tickets are $25 in advance, $35 at the door. Purchase them at Crow Bar, 1812 North 17th Street.